Welcome to the Blog Section of NailsFungus.org

In this section you will find articles and videos on nail fungus and nail fungus treatments. Feel free to search for a subject concerning you or just browse around. We have amassed the largest informational database on nail fungus online and are here to help…
Living With A Nail Fungus Infection
Having a nail fungus infection does not single you out, in fact it makes you part of the 20% of the world population that is also afflicted with this disease. Although it is unsightly, it is possible to live with, and cure, if you're willing to put in the effort it may take. If you're reading this, you may already be affected with this rather common disease. Below is more information to help you.
Nail fungus is a microorganism that lodges and grows on and under the nail. It can occur on both the finger and toenails. In fact, it's really not a very discriminating fungus as it will happily grow anywhere it can. The biggest problem with nail fungus is not that it can do much harm, but that it takes so long for an infected person to notice the discoloration in their nail, and usually even longer for them to do anything about it. By then, the fungus has worked its way underneath the nail sheath and into the nail bed where it is much harder to get at. The fungus's goal is to find a warm, wet place to survive. The infected person's goal is to get rid of the fungus and get their healthy nail back! The faster you notice and start treating a fungal nail infection, the more likely you are to cure yourself of it.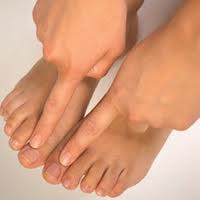 Avoid Becoming Infected in the First Place
The simplest solution to a nail fungus infection is not to get it to begin with. There are lots of easy precautions you can take to avoid this disease.
Think carefully about your regular day and where you might come into contact with these fungi. They tend to live in wet environments, like public bathrooms, locker rooms, public pools, etc. When you use these areas, make certain to wash your hands with an antibacterial soap. If you need to walk in these areas with exposed feet (for instance, to take a shower or get to the pool) wear a protective covering, like flip flops, to avoid contact with the fungus.
Don't wear wet clothes for a long period of time. If you get soaked in the rain, try to dry off and change as soon as possible. If you've been swimming, change out of your suit and into dry clothes before leaving the pool. If you sweat a great deal while working out, shower, dry thoroughly and change into clean clothes before leaving the gym. This rule is especially true to avoid toenail fungus infection as many people don't change their socks and shoes after exercise and that is an ideal breeding ground for nail fungus.
Stay healthy. Eat foods that will help you fight fungal infection, like yogurt and garlic. Take supplements of beta carotene, and vitamins B, C, D, and E. Use neem tree oil, tea tree oil, red thyme oil, and lemon oil on your skin to control a fungal infection if you contract one. Don't eat yeast filled products, like brewer's yeast or beer, if you have a nail fungus infection.
What Nails Are and How They Become Infected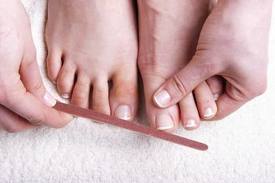 Our nails look like clear, hard sheathes that cover part of our finger and eventually grow out over the edge. Most people have a bit of a pinkish tinge underneath their nails. The nail itself isn't pink but allows the color of the skin and blood vessels directly underneath to show through. This is what a normal, healthy nail should look like.
A nail infection discolors the nail to a whitish or yellowish color at first, then as it grows, brown and black can become part of the color scheme.
Nails are made up of keratin, the same protein that builds our hair and the outmost layer of our skin. Keratin is a strong-celled protein that is fairly diverse. For our nails, it builds this lovely sheath to protect the soft part of the nail from harm.
How Does Infection Get Into the Nail?
Really what happens is that a fungal infection gets under the nail. Just like their cousins, the mushroom, the fungal spores that grow and invade the nail bed want to be in a warm, dark, damp place to grow. We come into contact with these spores on a regular basis. Some of them are harmless and wash off with no effect to us. Others try to seek a parasitic relationship with our bodies, using us as a means to grow and spread themselves.
Most people don't realize when or where they might come into contact with these parasitic fungal spores. The answer is, pretty much everywhere. Germs, viruses, and spores are part of the make-up of our eco-system. Having a healthy immune system is what allows our bodies to fight these things off.
The fungus that most commonly causes nail infection is called a dermatophyte. We come into contact with them every day and for most people, no harm is caused. However, for people with certain diseases, like diabetes, or who have poor circulation, or even who have been sick for a long time, so their immune system has been working overtime, these parasitic fungi find a happy breeding ground. The most commonly affected area is the toenail, as it is usually kept in the dark and surrounded by warm fabric that has the potential to hold in moisture. Fingernail fungus infections occur most often in people who spend a great deal of time with their hands in the water or exposed to harsh chemicals.
Fungus grow very slowly, so by the time the infected person notices the discoloration of their nail, the fungus has already established a fairly good hold on the nail. Usually it gets underneath the nail at the tip of the toe by working its way underneath and into the protected nail bed. It can also get into the soft tissue surrounding the nail and work its way under from there. Nail Fungus Infections aren't incredibly dangerous, but they do take a very long time to treat, as the fungus isn't gone until the nail has grown out entirely clear.
What can I do to prevent it?
There are lots of ways you can prevent nail fungus from getting to your nails in the first place. This is your best bet.
Keep your nails trimmed close to the edge of the finger or toe tip. The less space there is at the edge of the nail for the fungus to get on, the less likely it will be to grow.
Wash your hands and feet regularly and dry them thoroughly. Wear clean socks every day and make sure your shoes dry out entirely before wearing them, especially if you wear the same shoes every day.
Wear something on your feet when in public areas that have a lot of water, like swimming pools or locker rooms. And make sure those shoes have a chance to dry out too!
If I Get Infected, How Do I Treat It?
There are a great many home remedies suggested on this and other websites. Over-the-counter remedies and medications are another good idea. If you're going to try to treat it yourself, start working with one of these remedies and wash the affected area at least twice a day, then dry it thoroughly. Wear clean socks if it's a toenail infection, even to the point of changing your socks a couple times a day. Right after washing your feet. And if it is possible for you to wear sandals, exposing your feet to the light also helps.
If your infection is severe or well advanced, a visit to your doctor to figure out what kind of fungal infection it is and what treatment options are available to you will be your next step.
The Ins and Outs of Treating Fingernail Fungus Infection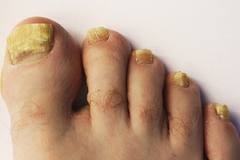 Our nails are mad of keratin, which is similar in structure to bone but not the same. It works to protect parts of the skin and tends to be a telltale indicator for signs of internal problems.
Most people are familiar with toenail fungus infections. A lot of people have them and they are caused by the fact that toes tend to spend a lot of time in dark, damp environments and come into contact with a lot of things that may be carriers for fungal spores. However fingernails can also become infected by fungus. The first sign of infection is usually the nail becoming discolored and then thickening, especially along the tips. This looks very unpleasant and is an embarrassment to people who suffer from it. Avoid painting your nails with fingernail polish if this occurs as the polish will seal in humidity and give the fungus a better breeding environment. Deciding that the problem "will go away on its own" is also a bad idea. Treating this fungus is the smartest thing you can do.
Nail Fungus Treatments
There are several available treatments for nail fungus, some of which include taking oral antifungal medications. Many people try to avoid this as some of these medications have rather harsh side effects. Antifungal solutions and ointments are available over the counter and are comparatively well priced. Several of these are alternative remedies that use natural oils with antifungal properties
The most popular and effective nail fungus treatment is ClearFungus. This is a combination of essential oils to both kill the fungus and help heal and moisturize the surrounding skin. No side effects have been reported during use of this natural medication.
Some important maintenance tips to encourage the healing process if you have a nail fungus infection:
Keep a strict regimen of applying the antifungal solution to the infected nail(s)
Maintain good hygiene, even if it means changing your regular habits
Wash your hands regularly and use soap. Scrub your nails with a nail brush to remove any dirt that gets underneath or into the ridges of the nail
Avoid using your nails as tools to open or unscrew anything as this can abrade the nail and allow the microorganisms that cause the fungal growth to bury themselves further in your nail and nail bed
If you choose to go to a salon to get a manicure or pedicure, then make sure your chosen salon washes and sterilizes its equipment so you reduce the risk of contracting infection
Don't wear nail polish to cover up the embarrassment of having a fungal infection. The polish will hold moisture inside the nail and nail bed, encouraging fungal growth and further damage to the area.
Use, and don't share your own nail maintenance tools, like clippers, file, cuticle stick, etc. as this lowers the chance of contracting a fungal infection
Wash your hands and feet regularly and dry them thoroughly.
Catching and treating a nail fungus infection early on will avoid problems in the future. Having the antifungal solution available is the best safety tip.
Use gloves when dealing with chemicals to avoid exposing your fingernails to futher damage
If you find that the infection persists, seek advice from your medical professional as there may be other symptoms and problems that linger unseen in your body that should be addressed.
Prescription Treatments for Onychomycosis
A Doctor's Recommendations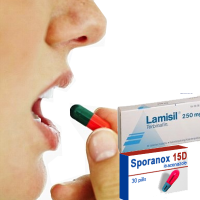 Where once onychomycosis was considered solely a cosmetic problem, doctors are treating it with greater concern. Nail fungus is unattractive, yes, but it also affects the infected person's willingness to interact with others, especially in situations where exposing the infected nail or having other people come into contact with it may make the sufferer uncomfortable.
Beyond the psychological and social repercussions associated with onychomycosis, the basic function of the nail is disrupted. The point of having the nail sheath (the hard part of the nail) is to act as an armor for the soft tissue beneath and to assist in how we sense and interpret the world. A foot that has an infected nail or nails may interfere with normal sensation and even the ability to walk. Add to this the possibility of a nail fungal infection allowing for what is referred to as a 'superinfection', the chance that other bacteria and viruses could layer themselves on top of the fungal infection and cause further harm, and it is time to fix the problem.
These are the reasons behind the medical communities more aggressive treatment of onychomycosis. On the patient side of the equation, more people are requesting treatment and mentioning the problem to their doctors earlier to nip it in the bud.
There are two basic categories of treatment for onychomycosis. Oral (by mouth) and topical (applied directly to the infected area) Which treatment your doctor chooses will depend on a variety of factors. If the lunula (white area at the base of your fingernail) is affected by either distal subungual onychomycosis or proximal subungual onychomycosis then the oral medical prescription is the method of eradication. How the patient feels about the entire process is taken into account as well. Therefore it is not uncommon to use both an oral and a topical medication in conjunction. Working the infection from both sides of the body (in and out) can be a very effective treatment.
Choosing the oral prescription medication treatment is not to be considered lightly. One of the main drawbacks of this method of fungus eradication is that all of the antimycotic (antifungal) medications available for the treatment of onychomycosis have the potential to cause liver damage. It is imperative that your doctor test your liver function before beginning a course of these drugs and it is likely that your doctor will continue to monitor your liver during the treatment. If a patient has any history of or current liver problems, an oral medication should not be taken. The patient should monitor themselves as well, telling their doctor if they experience upper abdominal pain, malaise, fatigue, or if they notice jaundice (yellowing skin or yellowing of the eyes), pale colored stools or particularly dark urine.
In the past, Griseofulvin was the only available oral prescription medication to treat onychomycosis. It did work, but not terribly well and usually came with a passel of side effects, particularly when moderate to high doses were recommended. Griseofulvin treatment also took a long time and it was common for the infection to reoccur after the treatment stopped. Fortunately a variety of options have been created since then.
Terbinafine, more commonly known as Lamisil is very effective at fighting onychomycosis caused by dermatophytes, which is the most common cause of the disease. Terbinafine is prescribed as a 250 mg pill taken once a day for six weeks for fingernail infections and for twelve weeks if treating toenails. In some cases, pulse therapy (taking a drug for a certain period of time, then giving the body time off) has been effective. A complete blood count and liver panel should be taken before this treatment is started as well as four weeks into the therapy.
Itroconazole also known as Sporanox is also commonly administered in pulse dosing. The usual treatment schedule is 200 mg by mouth once a day for one week per month over the course of three months. Itraconazole can have negative reactions with several other forms of medication so telling your doctor exactly what you are currently taking before starting treatment is a medical necessity. A liver panel should be taken before this treatment is started and four weeks into the therapy.
Fluconazole, otherwise known as Diflucan is taken once a week in either 150 or 300 mg doses until the symptoms are gone. The treatment may last up to nine months before positive results are seen. Again, this drug may have negative interactions with other medications so tell your doctor what you are currently taking to avoid this. No blood tests are required when taking fluconazole but your doctor may order them anyway.
It is most common to use topical onychomycosis prescriptions in cases that are caught early on and therefore still mild, and in conjunction with an oral medical prescription. An incredibly effective topical prescription is Ciclopirox, commercially known as Penlac. This is an 8% topical solution that is applied to the infected area once a day. While it is a safer delivery method than oral antimycotics, when used alone it only achieved a 5% success rate.
When all other methods have failed, and/or in severe cases of onychomycosis, surgery becomes an options. There are three different methods of surgical nail removal: mechanical, chemical or surgical nail avulsion (removal). The nail can be mechanically or surgically avulsed (torn off) which is done after numbing the area with a local anesthetic as it can be quite painful. This is most common when the nail has already pulled away from the nail bed. A concentrated solution of 50% urea can be used to both eradicate the infection and soften the nail for removal and can be a fairly painless process. Once the nail has been removed, keeping the area clean and dry to prevent further or re-infection is necessary.
References
Ciclopirox (Penlac) prescribing information
Fluconazole (Diflucan) prescribing information
Itraconazole (Sporanox) prescribing information
Terbinafine (Lamisil) prescribing information