Fungal Toenail Infections and Using Home Remedies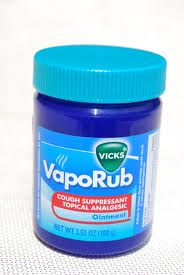 When people think of the phrase 'home remedy' they envision something that has been passed down through generations of family members and passed through many people by word of mouth. This is fairly accurate. As most of our grandparents and great grandparents grew up in a time when going to the doctor wasn't as easy as it is today and when medicinal compounds weren't that far away from what was already available in the house, many home remedies may seem strange, but especially in the case of fighting toenail fungus, they just may work!
There are a great many home remedies suggested for sufferers of toenail fungus and even more people will agree that they are effective. Everything from soaking your feet in Listerine or vinegar to applying Vicks VapoRub, bleach, peroxide or various essential oils to the affected area are circulating out there. Whereas the intelligence behind putting bleach directly on your skin is questionable, there are online-forums-worth of people who will swear by this and other methods.
Some useful remedies
The theory behind many of these treatments is that the fungus requires a certain environment to grow in, which includes a favorable pH level. Soaking your feet in something like a solution of vinegar and water would alter that pH level rather drastically and make the growing environment more hostile. One problem with this particular method is that soaking your whole foot in vinegar changes the pH in every area your skin comes into contact with the solution, which frequently dries out the skin, leaving it more prone to infection. A viable alternative is to soak a cotton ball in vinegar and place that on the affected area for 15-20 minutes. This isolates the vinegar to the places it is most needed and doesn't damage the healthy skin surrounding the infection. This technique also works with the suggestion of Listerine.
"Why Vicks VapoRub?" many people ask. The common theory is that it has to do with the eucalyptus in the product. The results are fairly unanimous from those who have tried it, it really works to clear up toenail fungus, and works fast. If you choose this method, you must cover the entire affected area and rub the compound in well. Reports state that the infection starts to clear up within days.
Using rubbing alcohol or peroxide, applied to the nail, the surrounding area and under the nail bed if possible, are two other very common remedies. The likelihood of irritation is fairly high with these two but they have also been proven effective at killing toenail fungus.
All of the remedies listed here have shown to be effective at slowing, killing and/or removing toenail fungus. But, as when using any home remedy, you must use a bit of common sense. If the infection gets worse or if the skin around the infected nail becomes irritated and infected as well, stop treatment immediately and see your doctor. Most of these remedies are for the early stages of toenail fungal infections and should not be started if your toe is already oozing pus or if the nail has separated from the nail bed. Again, if this is your situation, contact your health care professional right away.
Paronychia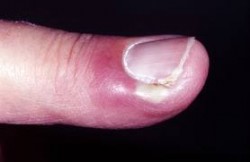 aronychia is a disease of the Perineum, where the skin around the surface of the nail hangs loosely. It has been found most often in the U.S., usually in kids who have a habit of biting their nails or sucking their fingers. There two forms of Paronchial infection, Chronic Paronychia and Acute Paronychia. The forms are judged according to the length of time it remains in the body.
Paronychia is a viral infection that grows gradually stronger, resulting in a bumpiness, softness and redness surrounding the nails. The main culprits for this infection are Candida and mold. It can be passed from person to person via touch.
Causes of Paronychia
Most forms of Paronychia occur by a nick or break in the skin being infected. If a person has a hangnail or a habit of chewing their nails, this is a good way for the infection to enter the area. There is evidence of Streptococcus and Pseudomonas germs getting into the infected area and making it worse. The chronic form of Paronychia is typically linked with the use of abrasives, for instance soaps and detergents while washing. The chronic infections are typically the result of Candida albcans or other fungus.
Acute Paronychia occurs when the skin around the nail becomes inflamed and swells causing pain to the afflicted person. Pus may develop and ooze from the infected area, removing the top layer of the nail.
Chronic Paronychia is a longer lasting case and the nails can become so infected that they develop a greenish tinge around the edges of the skin.
Diagnosis
In the cases of Acute Paronychia, a culture of the pus can be taken to determine what kind (or kinds) of infection is occurring and then treatment can be prescribed. Chronic Paronychia can be a bit more difficult to diagnose and treat, though a potassium hydroxide test may be able to determine which fungus is the source of the infection.
Treatment
Massaging the afflicted area in hot water three to four times per day can help relieve some of the pain and swelling
Antibiotics such as diclogacilin and cephelaxin may be prescribed
If the swelling is severe, the area may need to be punctured and drained
Part of the nail may need to be removed in some cases
An antifungal may also be prescribed
Things that should NOT be used to cure Paronychia
Do not use topical antibiotics
Do not take prescribed steroids
Unusual cases of people who have contracted Paronychia have occurred in patients with:
HIV/AIDS
On steroids
High blood sugar
Poor circulation
Prevention
Don't chew or bite your nails
Don't suck on your fingers or thumbs
Don't immerse your hands in water without wearing protective gloves
The Ins and Outs of Treating Fingernail Fungus Infection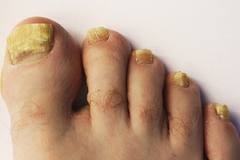 Our nails are mad of keratin, which is similar in structure to bone but not the same. It works to protect parts of the skin and tends to be a telltale indicator for signs of internal problems.
Most people are familiar with toenail fungus infections. A lot of people have them and they are caused by the fact that toes tend to spend a lot of time in dark, damp environments and come into contact with a lot of things that may be carriers for fungal spores. However fingernails can also become infected by fungus. The first sign of infection is usually the nail becoming discolored and then thickening, especially along the tips. This looks very unpleasant and is an embarrassment to people who suffer from it. Avoid painting your nails with fingernail polish if this occurs as the polish will seal in humidity and give the fungus a better breeding environment. Deciding that the problem "will go away on its own" is also a bad idea. Treating this fungus is the smartest thing you can do.
Nail Fungus Treatments
There are several available treatments for nail fungus, some of which include taking oral antifungal medications. Many people try to avoid this as some of these medications have rather harsh side effects. Antifungal solutions and ointments are available over the counter and are comparatively well priced. Several of these are alternative remedies that use natural oils with antifungal properties
The most popular and effective nail fungus treatment is ClearFungus. This is a combination of essential oils to both kill the fungus and help heal and moisturize the surrounding skin. No side effects have been reported during use of this natural medication.
Some important maintenance tips to encourage the healing process if you have a nail fungus infection:
Keep a strict regimen of applying the antifungal solution to the infected nail(s)
Maintain good hygiene, even if it means changing your regular habits
Wash your hands regularly and use soap. Scrub your nails with a nail brush to remove any dirt that gets underneath or into the ridges of the nail
Avoid using your nails as tools to open or unscrew anything as this can abrade the nail and allow the microorganisms that cause the fungal growth to bury themselves further in your nail and nail bed
If you choose to go to a salon to get a manicure or pedicure, then make sure your chosen salon washes and sterilizes its equipment so you reduce the risk of contracting infection
Don't wear nail polish to cover up the embarrassment of having a fungal infection. The polish will hold moisture inside the nail and nail bed, encouraging fungal growth and further damage to the area.
Use, and don't share your own nail maintenance tools, like clippers, file, cuticle stick, etc. as this lowers the chance of contracting a fungal infection
Wash your hands and feet regularly and dry them thoroughly.
Catching and treating a nail fungus infection early on will avoid problems in the future. Having the antifungal solution available is the best safety tip.
Use gloves when dealing with chemicals to avoid exposing your fingernails to futher damage
If you find that the infection persists, seek advice from your medical professional as there may be other symptoms and problems that linger unseen in your body that should be addressed.
Onychorrhexis – Brittle Nail Disease
What is it? – When fingernails and toenails break easily because they are weak.
Why is it? – As keratin develops with protein as a component, the nail grows according to the appropriate thickness determined by the body. Your nail thickness is pretty much set at birth. Some people are born with very thin and/or fragile nails
What causes it? – Humidity at the base of the nail is a common cause. For instance, soaking your hands (or person) in water for a long period of time (taking a bath or doing dishes) on a regular basis. Some people have a hereditary condition of weak nails. As they grow older, their nails become weaker and more prone to breakage. Some diseases and circumstances that might cause a fragile nail are:

Hypothyroidism or low thyroid levels
Reynaud's syndrome
Skin diseases, such as psoriasis
Lack of proper nourishment
Signs of this affliction
Flaking at the base of the nail
The nails breaking and/or falling off
Basic Treatment
People with brittle nails should not spend a lot of time with their hands in the water. They should dry their hands thoroughly after getting them wet and they should use a mild soap when washing.
Immediately after washing and drying their hands, sufferers of onychorrhexis should apply a moisturizer to the afflicted limb. Two recommended kinds of moisturizer are:
Standard "beauty" moisturizers, which work to soften the skin. These will provide instant relief and will assist people with this affliction greatly.
Healing moisturizers, which both soften and infuse the skin with herbal or medicinal remedies as well as acting as a barrier between the water and the nail
Some good preventative measures are as follows:
Wearing protective covering on hands or feet when immersing them in water
Not participating in activities that involve being submerged in water, such as swimming.
Protecting the hands from irritating chemicals
Supplementing the diet with vitamins and minerals to help the nails become stronger.
Identifying nutritional deficits that may be causing the nail breakdown and working to increase those areas
Side Effects
The only potential negative side effect of the above treatment is an allergic reaction to a moisturizer. Stay alert for irritation of the skin to indicate that there is sensitivity.
A Quick Overview of
Toenail Fungus Treatment Options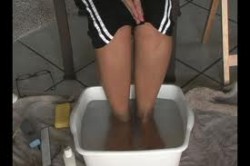 Toenail fungus is one of the most common and contractible diseases, as well as one of the most difficult to cure. The first thing you have to do is determine the cause of the infection. Is it fungal, bacterial, something else? And which kind of nail fungus is it? Is it Dermatophyte or yeast? Once your doctor has identified the source of the infection you can determine the course of treatment. Many people choose the home remedy path and find it very effective. Please note, if your nail fungus infection has reached the point where there is pain and/or drainage (oozing pus) you are well past the point where home remedies of any kind will work. If this is the case, you will need to find a standard medical solution to your problem.
Home remedies really are effective, especially in treating toenail fungus. Many people consider alternative medicine to be "hippy dippy" or "out there" but something to consider is that only a couple hundred years ago, "alternative medicine" was the only medicine available. Many of the home remedies currently recommended are sometimes more effective than their standard medicine counterparts.
Some of these methods might sound a bit off-the-wall, but the science behind them is quite sound. Many of the natural fungicides recommended and available on the market are faster acting than some oral prescriptions. Soaking your feet in vinegar may sound gross, not to mention smelly, but vinegar has been used for centuries as a powerful disinfectant. Again, these are remedies to be tried in the early stages of nail fungus infection. Once the toenail fungus has caused the nail to separate from the nail bed, immersing your feet in vinegar or Listerine will be very painful, very quickly.
The modern medical community has created its own solutions to the problem of toenail fungus by producing various pharmaceutical products to treat the infection. If you have caught the infection early on, it is most likely that your doctor will prescribe a clear coat medicated nail polish. If the infection isn't cleared up by this product, the next stage is to try an oral antifungal medication. This is a step that should only be taken while under the care of a medical professional as some of these products carry the risk of serious side effects and internal organ damage. You will have to check in with your doctor regularly if you choose this option, which does make it very expensive. You will also need to let your doctor know all medications, supplements and herbal remedies you are taking as this will reduce the possibility of a negative drug reaction during the course of your treatment.
The best cure for toenail fungus infection is prevention and/or early detection. Most people don't notice a toenail fungus infection until it has progressed fairly far along as this is not something that causes significant discomfort and as it is not a regularly exposed area, people aren't that concerned about it. The sooner you act to kill the invading toenail fungus, the easier it will be to make their extermination permanent.