Myxiod Cyst or Digital Mucous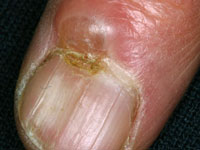 A Myoxid cyst develops because of alterations in the tissue on the tip of the toe. A cyst is a shiny, smooth bump. It is soft and rubbery and looks sort of transparent. When they develop, it is usually towards the end of fingers or toes. Usually they are about 1/5-3/5 inch wide and form in a circular or ovoid shape. Digital Mucous occurs when these cysts burst and emit a thick fluid, whitish or yellowish in color. These cysts occur more commonly in women and in people 45 years or older.
What Causes This?
Myxoid cysts usually develop where a recent minor trauma or an old injury have occurred. Friction (similar to a blister) is also a read more...