Posts Tagged 'fungal toenail infection'
So How Do I Tell if My Toenail
is Infected With a Fungus?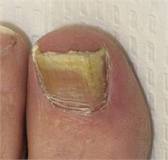 Having a nail that is infected with a fungus is not all that uncommon as it affects 10-12% of the American population. A toenail fungal infection is caused by microorganisms that lodge in the tiny cracks in the skin around the toenails. As the foot usually lives in a dark, damp environment, this is an ideal growing medium for the fungal spores. The symptoms of a fungal toenail infection are fairly consistent and if you know what to look for it is easier to catch it early on.
The first symptom to show up is usually a white or yellowish spot on the toenail. This may be a minute object, which makes it h read more...