Posts Tagged 'nail fungus'
Are There Any Over the Counter Nail Fungus
Treatments That Actually Prove Effective?
As microorganisms go, fungi seem to be one of the strongest strains. It is much harder to kill them than bacteria and viruses. Dermatophyte, molds and yeasts can invade your nails and burrow deep into the nail itself, creating quite the armor of keratin for this marauding nail fungus. This makes treating onychomycoses much more difficult as even powerful antimycotic medications are not always entirely effective. So this begs the question of whether any of the available over-the-counter nail fungus treatments are effective and worth your time and money.
It is an unfortunate but true fact that very few topical treatments, whether prescription or over-the-counter, effectively treat and cure nail fungus infec read more...
The Places Toenail Fungus Like To Hide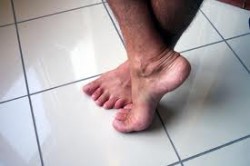 Permanently ridding yourself of a nail fungus infection once it has taken hold can be a very difficult job. The fungus grows slowly but strongly and by the time you see the initial symptoms, a great deal of damage has already occurred. The fungus likes to work its way underneath the nail so that it uses the nail as a shield to keep it warm and moist, its favorite growing environment. It also makes it easier for the infection to reoccur after what seems like successful treatment because the fungus can lie dormant underneath the nail, then start growing again once the treatment ceases.
How Does a Nail Fungus Grow?
A fungus i read more...
A Quick Overview of
Toenail Fungus Treatment Options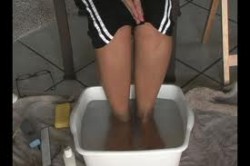 Toenail fungus is one of the most common and contractible diseases, as well as one of the most difficult to cure. The first thing you have to do is determine the cause of the infection. Is it fungal, bacterial, something else? And which kind of nail fungus is it? Is it Dermatophyte or yeast? Once your doctor has identified the source of the infection you can determine the course of treatment. Many people choose the home remedy path and find it very effective. Please note, if your nail fungus infection has reached the point where there is pain and/or drainage (oozing pus) you are well past the point wher read more...
What are the symptoms of a Nail fungus and
how can I tell if I have a Nail Fungus Infection?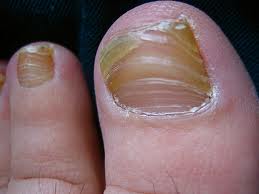 You'd think these would be fairly straightforward questions that ought to illicit simple answers. Unfortunately not only is this not true, but it is confusing enough that sometimes doctors misdiagnose nail fungus (or onychomycosis). Knowing the symptoms will assist you in helping your doctor to order the appropriate diagnostic tests so that you end up with the correct solution to your problem.
There are two basic causes of nail infections. Bacterial and fungal. Onychomiycosis, or fungal nail infection, is usually caused by a dermatophyte called Trichophyton rubrum. read more...
The Beer Soak Method – A Homeopathic remedy
for nail fungus. How to do it and why it works.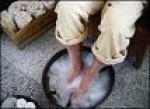 The strange yellow color that you see on your finger and toenails is not only unattractive but possibly harmful. This is caused by a fungus that lives just along the nail bed and beneath the nail itself. It is not uncommon for affected nails to become rough and thick, along with the yellowing that has already been spoken of. So if you don't wish to take a prescription medication as recommended by a doctor, what do you do? Fortunately there is another option for folks who prefer the homeopathic approach to medicine.
By combining dark beer, more commonly read more...