Proximal Subungual Onychomycosis (Nail Fungus)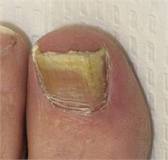 Least common in people with healthy immune systems but found frequently in people who have compromised immune systems, proximal subungual onychomycosis stands out because the progression of the disease starts at the cuticle and grows out with the nail.
Proximal subungual onychomycosis usually causes the nail to become disfigured, as in other nail fungus infections, but as it starts at the cuticle and works its way up, it is more likely to infect the nail bed early on, causing the nail bed to develop bumps and irregularities. This then may cause the nail plate to become dislodged and fall off, exposing the nail bed to possible further inf read more...