Archive for the 'Nail Fungus Treatment' Category
Onychorrhexis – Brittle Nail Disease
What is it? – When fingernails and toenails break easily because they are weak.
Why is it? – As keratin develops with protein as a component, the nail grows according to the appropriate thickness determined by the body. Your nail thickness is pretty much set at birth. Some people are born with very thin and/or fragile nails
What causes it? – Humidity at the base of the nail is a common cause. For instance, soaking your hands (or person) in water for a long period of time (taking a bath or doing dishes) on a regular basis. Some people have a hereditary condition of weak nails. As they grow older, their nails be read more...
A Quick Overview of
Toenail Fungus Treatment Options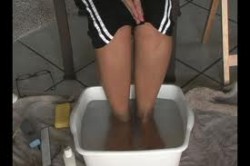 Toenail fungus is one of the most common and contractible diseases, as well as one of the most difficult to cure. The first thing you have to do is determine the cause of the infection. Is it fungal, bacterial, something else? And which kind of nail fungus is it? Is it Dermatophyte or yeast? Once your doctor has identified the source of the infection you can determine the course of treatment. Many people choose the home remedy path and find it very effective. Please note, if your nail fungus infection has reached the point where there is pain and/or drainage (oozing pus) you are well past the point wher read more...
Leukonychia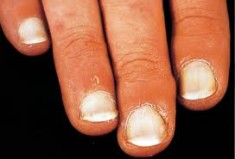 Leukonychia is a nail condition. It manifests as the nail changing color either partially or fully. This disease can be caused by systemic problems or most commonly, it is a genetic disorder. The nail appears to have the standard shape and appearance, except for the fact that the nail turns white. This is caused by the presence of "parakeatotic cells". These cells have an undeveloped and bulky nucleus, which contain 'keratohyalins'. This cell variation causes the nail to reflect light and makes the nail appear opaque white.
Types of Leukonychia
True Leukonychia:
This type of Leukonychia is broken into tw read more...
Koilonychia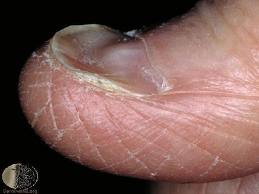 Koilonychia is a hereditary disorder that affects the fingernails. The nails start to get thinner and end up lifting at the outer edges, a condition more commonly known as spoon nails. This is caused by the poor absorption of iron into the bloodstream, also known as anemia.
What Causes Koilonychia?
The following are common causes of Koilonychia:
Poor circulation
Poor Thyroid Function
Muscle Skinning Condition
Universal Lupus
Hemochromatosis
Patella Syndrome
Reynaud's Syndrome,
Erythematosus
Poor health
Iron deficiency
Overuse of soaps and oils
read more...
Myxiod Cyst or Digital Mucous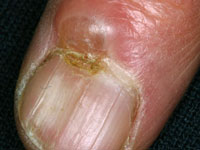 A Myoxid cyst develops because of alterations in the tissue on the tip of the toe. A cyst is a shiny, smooth bump. It is soft and rubbery and looks sort of transparent. When they develop, it is usually towards the end of fingers or toes. Usually they are about 1/5-3/5 inch wide and form in a circular or ovoid shape. Digital Mucous occurs when these cysts burst and emit a thick fluid, whitish or yellowish in color. These cysts occur more commonly in women and in people 45 years or older.
What Causes This?
Myxoid cysts usually develop where a recent minor trauma or an old injury have occurred. Friction (similar to a blister) is also a read more...