Archive for the 'Nail Fungus Remedies' Category
A Quick Overview of
Toenail Fungus Treatment Options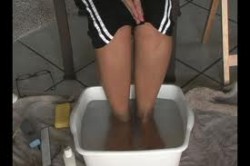 Toenail fungus is one of the most common and contractible diseases, as well as one of the most difficult to cure. The first thing you have to do is determine the cause of the infection. Is it fungal, bacterial, something else? And which kind of nail fungus is it? Is it Dermatophyte or yeast? Once your doctor has identified the source of the infection you can determine the course of treatment. Many people choose the home remedy path and find it very effective. Please note, if your nail fungus infection has reached the point where there is pain and/or drainage (oozing pus) you are well past the point wher read more...
The Ins and Outs of Treating Fingernail Fungus Infection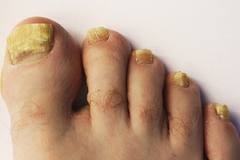 Our nails are mad of keratin, which is similar in structure to bone but not the same. It works to protect parts of the skin and tends to be a telltale indicator for signs of internal problems.
Most people are familiar with toenail fungus infections. A lot of people have them and they are caused by the fact that toes tend to spend a lot of time in dark, damp environments and come into contact with a lot of things that may be carriers for fungal spores. However fingernails can also become infected by fungus. The first sign of infection is usually the nail becoming discolored and then thickening, especially along the tips. This looks very read more...
Topical Medications to Treat Nail Fungus
There are a wide variety of treatments available to cure nail fungus. Some of these treatments are oral and some are topical. Topical treatments are available as prescription, over-the-counter and natural or alternative. Most people prefer using a topical treatment to an oral medication because the topical medication has far fewer risks associated with its use.
The topical prescription medication Penlac (otherwise known as Ciclopirox) is a relative newcomer to the U.S. market. Approved by the FDA in 1999 and in Canada in 2004, this was a wonderful improvement in the treatment of nail fungus as up u read more...
Easily Applied Home Nail Fungus Remedies
Having unattractive toenails is embarrassing and even humiliating. There are many ways to solve this incredibly common problem.
How Does My Nail Become Infected?
Toenails come into contact with microorganisms that get onto the skin, the nail sheath and underneath the nail to the nail bed. Any and all of these places can easily become a hotbed (literally) for infection. Once you have contracted a fungal infection, it can be very difficult to cure.
As these microorganisms are fungal spores, they thrive in places that have no light and high humidity. This makes the feet very susce read more...
The Beer Soak Method – A Homeopathic remedy
for nail fungus. How to do it and why it works.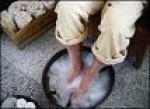 The strange yellow color that you see on your finger and toenails is not only unattractive but possibly harmful. This is caused by a fungus that lives just along the nail bed and beneath the nail itself. It is not uncommon for affected nails to become rough and thick, along with the yellowing that has already been spoken of. So if you don't wish to take a prescription medication as recommended by a doctor, what do you do? Fortunately there is another option for folks who prefer the homeopathic approach to medicine.
By combining dark beer, more commonly read more...