Archive for the 'Nail Fungus' Category
A Doctor's Detailed Description of Onychomycosis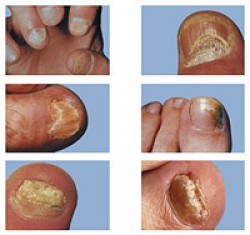 Onychomycosis is the medical term for a fungal infection of the fingernails or toenails. Onycho refers to the nail, mycosis refers to fungal infection. This condition represents about 33% of all fungal skin infections. Approximately half of all diagnosed diseases of the fingernails or toenails are onychomycosis.
Onychomycosis usually occurs in older people, most commonly 40 and above. The likelihood of the disease occurring in adults rather than children is about 30%. Onychomycosis is a regularly occurring disease and the chances of contracting it increase as people age. Appr read more...
Nail Fungus Prevention Tips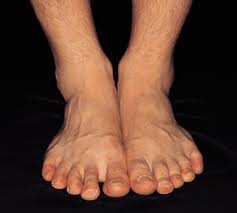 "An ounce of prevention is worth a pound of cure." So goes the old proverb and this is very true in the case of nail fungus prevention. Avoiding infection of your nails is a fairly simple process, but it does require diligence on your part. When you consider that once an infection has established itself, it is much more difficult to cure, working on prevention is in everyone's best interest.
The main problem is that nail fungus is not choosy about who it attacks. If it can find a successful living environment, it will.
People who are most subject to nail fungus infections are:
Living With A Nail Fungus Infection
Having a nail fungus infection does not single you out, in fact it makes you part of the 20% of the world population that is also afflicted with this disease. Although it is unsightly, it is possible to live with, and cure, if you're willing to put in the effort it may take. If you're reading this, you may already be affected with this rather common disease. Below is more information to help you.
Nail fungus is a microorganism that lodges and grows on and under the nail. It can occur on both the finger and toenails. In fact, it's really not a very discriminating fungus as it will happily grow anywhere it can. The biggest problem with nail fungus is not that it can do much harm, but that it takes so long for an infected person to notice the discoloration in their nail, and usually even longer fo read more...
8 Good Questions to Ask About Nail Fungus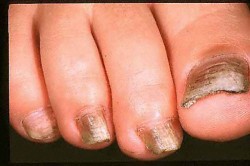 Nail fungus is a global problem. Many people do not understand how nail fungus infections are contracted, nor how to prevent them.
Here are 8 great questions, answered for your enlightenment, so you understand what fungal nail infections are and what causes them.
What is a nail fungus infection?
Dermaphytes, a microscopic organism are usually the culprit of nail fungus. As they are a fungal life form, they don't require light to grow. The spores cause the nails to become yellowed and thick.
Why does the nail provide such a great place for the fungus to live?
Fungus likes to live where it read more...
What Nails Are and How They Become Infected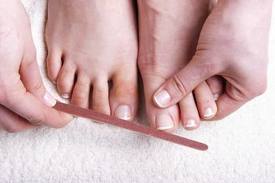 Our nails look like clear, hard sheathes that cover part of our finger and eventually grow out over the edge. Most people have a bit of a pinkish tinge underneath their nails. The nail itself isn't pink but allows the color of the skin and blood vessels directly underneath to show through. This is what a normal, healthy nail should look like.
A nail infection discolors the nail to a whitish or yellowish color at first, then as it grows, brown and black can become part of the color scheme.
Nails are made up of keratin, the same protein that builds our hair and the outmost layer of our skin. Keratin is a strong-celled protein that is fairl read more...