Archive for the 'Nail Fungus' Category
What Are The Most Effective Treatments
for Nail Fungus Infections?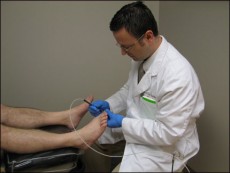 Figuring out which treatment will work best for you is part of the process of curing your nail fungus infection. There are many options out there and whether this is a long term infection or a very bad infection, it can be eliminated. However this will require patience. It can take months to clear up a nail fungus infection.
Good things to know about treating nail fungus infections
Getting rid of a nail fungus infection requires a lengthy treatment, no matter which option you choose.
Fingernails tend to clear up faster than toenails. If you read more...
What Nails Are and How They Become Infected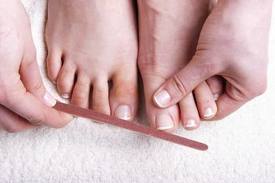 Our nails look like clear, hard sheathes that cover part of our finger and eventually grow out over the edge. Most people have a bit of a pinkish tinge underneath their nails. The nail itself isn't pink but allows the color of the skin and blood vessels directly underneath to show through. This is what a normal, healthy nail should look like.
A nail infection discolors the nail to a whitish or yellowish color at first, then as it grows, brown and black can become part of the color scheme.
Nails are made up of keratin, the same protein that builds our hair and the outmost layer of our skin. Keratin is a strong-celled protein that is fairl read more...
Some Useful Information When Looking
for Nail Fungus Treatments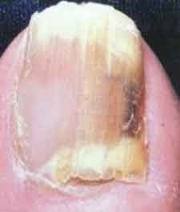 Nail fungus, known medically as Onychomycosis, is not an easy condition to treat. Primarily cosmetic in nature, it most commonly affects the toenails.
People who are at risk for contracting nail fungus are:
Older people,
Males,
People with diabetes
People who have had trauma to their nails
People with hyperhydrosis
People who suffer from peripheral vascular disease
People who have athlete's foot
People with an immunodeficiency
People who practice poor hygine
People who spend a lot of time read more...
Are There Any Over the Counter Nail Fungus
Treatments That Actually Prove Effective?
As microorganisms go, fungi seem to be one of the strongest strains. It is much harder to kill them than bacteria and viruses. Dermatophyte, molds and yeasts can invade your nails and burrow deep into the nail itself, creating quite the armor of keratin for this marauding nail fungus. This makes treating onychomycoses much more difficult as even powerful antimycotic medications are not always entirely effective. So this begs the question of whether any of the available over-the-counter nail fungus treatments are effective and worth your time and money.
It is an unfortunate but true fact that very few topical treatments, whether prescription or over-the-counter, effectively treat and cure nail fungus infec read more...
Onychoschizia – Split Nails
Onychoschizia is a condition in which the nail split or falls apart easily. Typically people who have Onychoschizia have nails that are very fragile, squashy, and thin or that have funny "crumple" lines. Sufferers are more prone to nail infections. Onychoschizia is most commonly found in women.
What Causes Onychoschizia?
Long periods of being submerged in water or chemical baths
Poor nutrition
Vitamin Deficits
Applying nail polish remover
Stress
How to Deal With Onychoschizia