Archive for the 'Nail Fungus Cause' Category
Welcome to the Blog Section of NailsFungus.org

In this section you will find articles and videos on nail fungus and nail fungus treatments. Feel free to search for a subject concerning you or just browse around. We have amassed the largest informational database on nail fungus on read more...
So How Do I Tell if My Toenail
is Infected With a Fungus?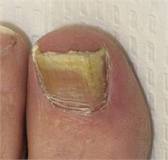 Having a nail that is infected with a fungus is not all that uncommon as it affects 10-12% of the American population. A toenail fungal infection is caused by microorganisms that lodge in the tiny cracks in the skin around the toenails. As the foot usually lives in a dark, damp environment, this is an ideal growing medium for the fungal spores. The symptoms of a fungal toenail infection are fairly consistent and if you know what to look for it is easier to catch it early on.
The first symptom to show up is usually a white or yellowish spot on the toenail. This may be a minute object, which makes it h read more...
What You Need To Know About Toenail Fungus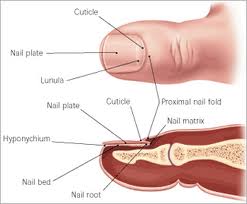 Toenail fungus infections are all caused by a fairly common set of conditions that can affect up to 12% of the American population. A fungus is a living organism that enjoys dark, damp places. Because of this, most people get a fungal nail infection in their toes. It does sometimes occur on fingernails, but as the feet offer a much more hospitable environment, that is the most sought after area for these little life-forms. The fungus can live along side the nail, or burrow underneath the nail. There are several factors that determine where the infection is actually located, two of which are the progression  and severity of the infection.
Doct read more...
Myxiod Cyst or Digital Mucous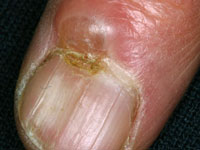 A Myoxid cyst develops because of alterations in the tissue on the tip of the toe. A cyst is a shiny, smooth bump. It is soft and rubbery and looks sort of transparent. When they develop, it is usually towards the end of fingers or toes. Usually they are about 1/5-3/5 inch wide and form in a circular or ovoid shape. Digital Mucous occurs when these cysts burst and emit a thick fluid, whitish or yellowish in color. These cysts occur more commonly in women and in people 45 years or older.
What Causes This?
Myxoid cysts usually develop where a recent minor trauma or an old injury have occurred. Friction (similar to a blister) is also a read more...
Common Nail Fungus Symptoms and Solutions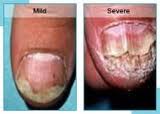 Suffering from some form of nail fungus is very common in humans. Because we find this embarrassing, we tend to hide the infected nail from view. This is especially true with toenails as they are easiest to hide inside a stuffy, warm set of shoes and socks.
Solving this problem can be both easier, and more difficult than you think. There are many products available to cure nail fungus. However some of them include some risk of further problems, some don't and will never work, and some people just have the problem of poor health that leads to continued infection.
What Causes Nail Fungus?
Every day we encounter many differe read more...