Archive for the 'Nail Fungus Cause' Category
Onychoschizia – Split Nails
Onychoschizia is a condition in which the nail split or falls apart easily. Typically people who have Onychoschizia have nails that are very fragile, squashy, and thin or that have funny "crumple" lines. Sufferers are more prone to nail infections. Onychoschizia is most commonly found in women.
What Causes Onychoschizia?
Long periods of being submerged in water or chemical baths
Poor nutrition
Vitamin Deficits
Applying nail polish remover
Stress
How to Deal With Onychoschizia
The Places Toenail Fungus Like To Hide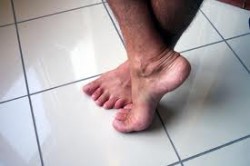 Permanently ridding yourself of a nail fungus infection once it has taken hold can be a very difficult job. The fungus grows slowly but strongly and by the time you see the initial symptoms, a great deal of damage has already occurred. The fungus likes to work its way underneath the nail so that it uses the nail as a shield to keep it warm and moist, its favorite growing environment. It also makes it easier for the infection to reoccur after what seems like successful treatment because the fungus can lie dormant underneath the nail, then start growing again once the treatment ceases.
How Does a Nail Fungus Grow?
A fungus i read more...
Paronychia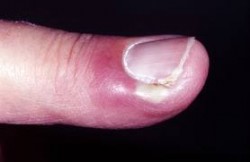 aronychia is a disease of the Perineum, where the skin around the surface of the nail hangs loosely. It has been found most often in the U.S., usually in kids who have a habit of biting their nails or sucking their fingers. There two forms of Paronchial infection, Chronic Paronychia and Acute Paronychia. The forms are judged according to the length of time it remains in the body.
Paronychia is a viral infection that grows gradually stronger, resulting in a bumpiness, softness and redness surrounding the nails. The main culprits for this infection are Candida and mold. It can be passed from person to person via touch.
Causes of Paronychia< read more...
Onychorrhexis – Brittle Nail Disease
What is it? – When fingernails and toenails break easily because they are weak.
Why is it? – As keratin develops with protein as a component, the nail grows according to the appropriate thickness determined by the body. Your nail thickness is pretty much set at birth. Some people are born with very thin and/or fragile nails
What causes it? – Humidity at the base of the nail is a common cause. For instance, soaking your hands (or person) in water for a long period of time (taking a bath or doing dishes) on a regular basis. Some people have a hereditary condition of weak nails. As they grow older, their nails be read more...
What You Need To Know About Toenail Fungus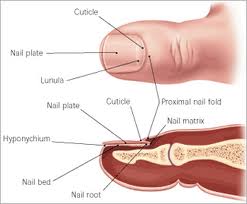 Toenail fungus infections are all caused by a fairly common set of conditions that can affect up to 12% of the American population. A fungus is a living organism that enjoys dark, damp places. Because of this, most people get a fungal nail infection in their toes. It does sometimes occur on fingernails, but as the feet offer a much more hospitable environment, that is the most sought after area for these little life-forms. The fungus can live along side the nail, or burrow underneath the nail. There are several factors that determine where the infection is actually located, two of which are the progression  and severity of the infection.
Doct read more...