Archive for the 'Nail Fungus Cause' Category
Onychorrhexis – Brittle Nail Disease
What is it? – When fingernails and toenails break easily because they are weak.
Why is it? – As keratin develops with protein as a component, the nail grows according to the appropriate thickness determined by the body. Your nail thickness is pretty much set at birth. Some people are born with very thin and/or fragile nails
What causes it? – Humidity at the base of the nail is a common cause. For instance, soaking your hands (or person) in water for a long period of time (taking a bath or doing dishes) on a regular basis. Some people have a hereditary condition of weak nails. As they grow older, their nails be read more...
Nail Fungus Prevention Tips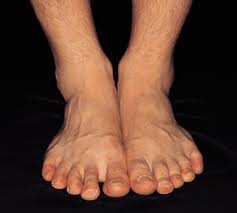 "An ounce of prevention is worth a pound of cure." So goes the old proverb and this is very true in the case of nail fungus prevention. Avoiding infection of your nails is a fairly simple process, but it does require diligence on your part. When you consider that once an infection has established itself, it is much more difficult to cure, working on prevention is in everyone's best interest.
The main problem is that nail fungus is not choosy about who it attacks. If it can find a successful living environment, it will.
People who are most subject to nail fungus infections are:
About the Condition Called Hangnails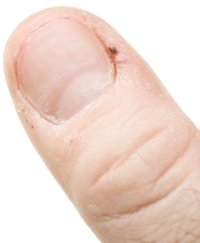 Everyone wants to have healthy, attractive nails. However many people have hangnails. It is probably the most common nail ailment that humans face. There are various things we can do to prevent hangnails from developing and destroying the aesthetic beauty of the hand. Hangnails are not only unattractive, they tend to catch on hair, clothing, and other surrounding objects and can cause sudden and severe pain if they are bent backward to far. Many people look for ways to stop development of this irritating little problem. There are some simple solutions to avoiding hangnails.
What is a Hangnail?
Excess skin builds up around the read more...
8 Good Questions to Ask About Nail Fungus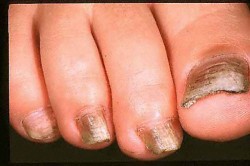 Nail fungus is a global problem. Many people do not understand how nail fungus infections are contracted, nor how to prevent them.
Here are 8 great questions, answered for your enlightenment, so you understand what fungal nail infections are and what causes them.
What is a nail fungus infection?
Dermaphytes, a microscopic organism are usually the culprit of nail fungus. As they are a fungal life form, they don't require light to grow. The spores cause the nails to become yellowed and thick.
Why does the nail provide such a great place for the fungus to live?
Fungus likes to live where it read more...
Welcome to the Blog Section of NailsFungus.org

In this section you will find articles and videos on nail fungus and nail fungus treatments. Feel free to search for a subject concerning you or just browse around. We have amassed the largest informational database on nail fungus on read more...