Archive for the 'Nail Fungus Cure' Category
Topical Medications to Treat Nail Fungus
There are a wide variety of treatments available to cure nail fungus. Some of these treatments are oral and some are topical. Topical treatments are available as prescription, over-the-counter and natural or alternative. Most people prefer using a topical treatment to an oral medication because the topical medication has far fewer risks associated with its use.
The topical prescription medication Penlac (otherwise known as Ciclopirox) is a relative newcomer to the U.S. market. Approved by the FDA in 1999 and in Canada in 2004, this was a wonderful improvement in the treatment of nail fungus as up u read more...
How Can I Permanently Cure My Toenail Fungus?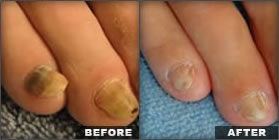 Doctors tend to shy away from the word "cure" when referring to toenail fungus because it is not an easy thing to do. We have become a very busy society that believes popping a pill will take care of everything. Unfortunately that is not the case with toenail fungus. Onychomycosis, the medical term for toenail fungus is hard to cure because the treatment regimen is very long and can be quite involved. Most kinds of fungus are able to lie dormant for a long period so people will go through treatment and get positive results, only to find that the infection returns. Curing toenail fungus permanently is a possibi read more...
Curing a Nail Fungus Infection
with an Acidophilus Beer Soak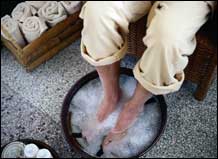 A nail fungus infection is unattractive at best, annoying at worst. This is not a disease that is going to kill you. It may affect how you interact with the world if it gets to bad, for instance, if your have a very bad toenail fungus infection, it may become painful to walk, or the nerves in your feet may be mildly affected and you won't be able to feel the floor very well. However this is not a life threatening condition, especially if it is caught early on.
A fungus, most commonly a dermatophyte, can get onto and underneath your nail and find a happy, warm, moist place to gr read more...
Removing All of or a Portion of Your Nail
to Treat Nail Fungus – Is it Effective?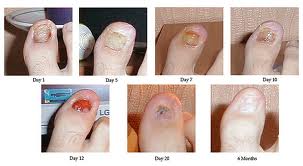 No one really knows. Little to no research has been done on removing all or part of the nail to treat a nail fungus infection. That's because it's sort of a last resort treatment for dealing with onychomycosis. However if you are unable to take any of the oral medications suggested for treating onychomycosis and if none of the topical solutions are effective, or if you have tried treating your nail fungus in several ways and none of them have been effective, then surgery may be an option.
Another thing to consider is if you continue to experience recurring nail fungus infecti read more...
Curing Toenail Fungus with Tea Tree Oil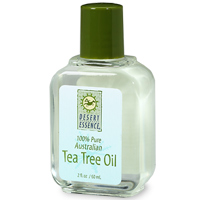 It is very uncommon for a doctor to recommend an alternative remedy over a prescription medicine. However in the case of Tea Tree Oil, this happens more often than not. Tea Tree Oil is a naturally occurring medicine and has been shown to be effective at eliminating the fungus that causes toenail infections. The Mayo Clinic has even run studies to confirm this. So why is this oil so effective? Because of its own natural physical properties.
This plant is native to Australia and has been read more...