Archive for the 'Nail Fungus Infection' Category
Living With A Nail Fungus Infection
Having a nail fungus infection does not single you out, in fact it makes you part of the 20% of the world population that is also afflicted with this disease. Although it is unsightly, it is possible to live with, and cure, if you're willing to put in the effort it may take. If you're reading this, you may already be affected with this rather common disease. Below is more information to help you.
Nail fungus is a microorganism that lodges and grows on and under the nail. It can occur on both the finger and toenails. In fact, it's really not a very discriminating fungus as it will happily grow anywhere it can. The biggest problem with nail fungus is not that it can do much harm, but that it takes so long for an infected person to notice the discoloration in their nail, and usually even longer fo read more...
What Nails Are and How They Become Infected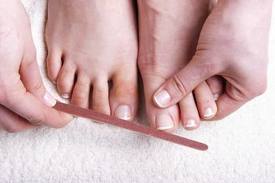 Our nails look like clear, hard sheathes that cover part of our finger and eventually grow out over the edge. Most people have a bit of a pinkish tinge underneath their nails. The nail itself isn't pink but allows the color of the skin and blood vessels directly underneath to show through. This is what a normal, healthy nail should look like.
A nail infection discolors the nail to a whitish or yellowish color at first, then as it grows, brown and black can become part of the color scheme.
Nails are made up of keratin, the same protein that builds our hair and the outmost layer of our skin. Keratin is a strong-celled protein that is fairl read more...
Prescription Treatments for Onychomycosis
A Doctor's Recommendations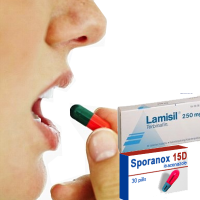 Where once onychomycosis was considered solely a cosmetic problem, doctors are treating it with greater concern. Nail fungus is unattractive, yes, but it also affects the infected person's willingness to interact with others, especially in situations where exposing the infected nail or having other people come into contact with it may make the sufferer uncomfortable.
Beyond the psychological and social repercussions associated with onychomycosis, the basic function of the nail is disrupted. The point of having the nail sheath (the har read more...
What are the symptoms of a Nail fungus and
how can I tell if I have a Nail Fungus Infection?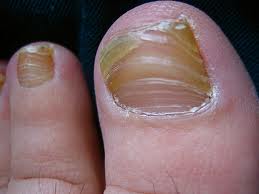 You'd think these would be fairly straightforward questions that ought to illicit simple answers. Unfortunately not only is this not true, but it is confusing enough that sometimes doctors misdiagnose nail fungus (or onychomycosis). Knowing the symptoms will assist you in helping your doctor to order the appropriate diagnostic tests so that you end up with the correct solution to your problem.
There are two basic causes of nail infections. Bacterial and fungal. Onychomiycosis, or fungal nail infection, is usually caused by a dermatophyte called Trichophyton rubrum. read more...
What Are The Most Effective Treatments
for Nail Fungus Infections?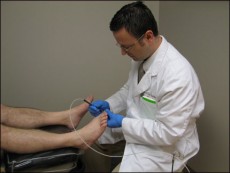 Figuring out which treatment will work best for you is part of the process of curing your nail fungus infection. There are many options out there and whether this is a long term infection or a very bad infection, it can be eliminated. However this will require patience. It can take months to clear up a nail fungus infection.
Good things to know about treating nail fungus infections
Getting rid of a nail fungus infection requires a lengthy treatment, no matter which option you choose.
Fingernails tend to clear up faster than toenails. If you read more...