Archive for the 'Nail Fungus Infection' Category
Onychomycosis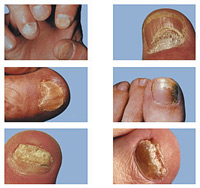 Onychomycosis is a broad term for many different kinds of fungal infection. Our nails are necessary parts of our body and protect the sensitive tissue beneath them from harm. Onychomycosis makes our nails look bad and become brittle with development of the disease. Treatment can be long and difficult but ultimately effective.
Symptoms
The nail begins to discolor, usually to opaque white or yellow
This usually begins at the tip of the nail and works its way down
The nail begins to thicken and become unattractive
As the nail thickens, it can develop darker yellow and brown spots
The nail becomes brittle and begins read more...
Topical Medications to Treat Nail Fungus
There are a wide variety of treatments available to cure nail fungus. Some of these treatments are oral and some are topical. Topical treatments are available as prescription, over-the-counter and natural or alternative. Most people prefer using a topical treatment to an oral medication because the topical medication has far fewer risks associated with its use.
The topical prescription medication Penlac (otherwise known as Ciclopirox) is a relative newcomer to the U.S. market. Approved by the FDA in 1999 and in Canada in 2004, this was a wonderful improvement in the treatment of nail fungus as up u read more...
So How Do I Tell if My Toenail
is Infected With a Fungus?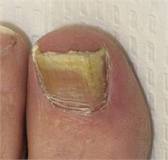 Having a nail that is infected with a fungus is not all that uncommon as it affects 10-12% of the American population. A toenail fungal infection is caused by microorganisms that lodge in the tiny cracks in the skin around the toenails. As the foot usually lives in a dark, damp environment, this is an ideal growing medium for the fungal spores. The symptoms of a fungal toenail infection are fairly consistent and if you know what to look for it is easier to catch it early on.
The first symptom to show up is usually a white or yellowish spot on the toenail. This may be a minute object, which makes it h read more...
What You Need To Know About Toenail Fungus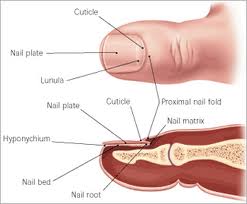 Toenail fungus infections are all caused by a fairly common set of conditions that can affect up to 12% of the American population. A fungus is a living organism that enjoys dark, damp places. Because of this, most people get a fungal nail infection in their toes. It does sometimes occur on fingernails, but as the feet offer a much more hospitable environment, that is the most sought after area for these little life-forms. The fungus can live along side the nail, or burrow underneath the nail. There are several factors that determine where the infection is actually located, two of which are the progression  and severity of the infection.
Doct read more...
Acrylic Nail Fungus Infections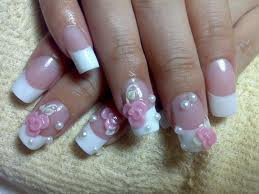 Many people choose to have acrylic nails applied to their hands. These are usually much stronger than the normal human nail and for those whose nails are very weak, it is an excellent solution to their problem of constant breakage or unattractiveness.
However there is the potential for a fungus to get in between the acrylic nail and the natural nail and find a great place to grow. Most salons practice excellent hygiene. However some don't. Those are probable breeding and propagating grounds for the fungus. If you have your nails done, make sure you go to a salon that sterilizes their equipment between customers and uses antibacterial products.
Sometimes read more...