Archive for the 'Nail Fungus Infection' Category
Prescription Treatments for Onychomycosis
A Doctor's Recommendations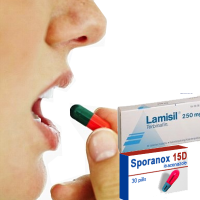 Where once onychomycosis was considered solely a cosmetic problem, doctors are treating it with greater concern. Nail fungus is unattractive, yes, but it also affects the infected person's willingness to interact with others, especially in situations where exposing the infected nail or having other people come into contact with it may make the sufferer uncomfortable.
Beyond the psychological and social repercussions associated with onychomycosis, the basic function of the nail is disrupted. The point of having the nail sheath (the har read more...
What are the symptoms of a Nail fungus and
how can I tell if I have a Nail Fungus Infection?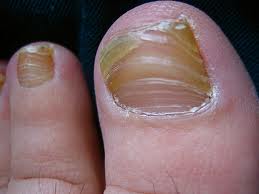 You'd think these would be fairly straightforward questions that ought to illicit simple answers. Unfortunately not only is this not true, but it is confusing enough that sometimes doctors misdiagnose nail fungus (or onychomycosis). Knowing the symptoms will assist you in helping your doctor to order the appropriate diagnostic tests so that you end up with the correct solution to your problem.
There are two basic causes of nail infections. Bacterial and fungal. Onychomiycosis, or fungal nail infection, is usually caused by a dermatophyte called Trichophyton rubrum. read more...
What Are The Most Effective Treatments
for Nail Fungus Infections?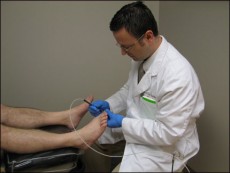 Figuring out which treatment will work best for you is part of the process of curing your nail fungus infection. There are many options out there and whether this is a long term infection or a very bad infection, it can be eliminated. However this will require patience. It can take months to clear up a nail fungus infection.
Good things to know about treating nail fungus infections
Getting rid of a nail fungus infection requires a lengthy treatment, no matter which option you choose.
Fingernails tend to clear up faster than toenails. If you read more...
Onychomycosis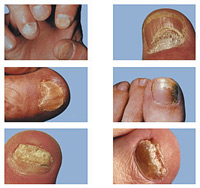 Onychomycosis is a broad term for many different kinds of fungal infection. Our nails are necessary parts of our body and protect the sensitive tissue beneath them from harm. Onychomycosis makes our nails look bad and become brittle with development of the disease. Treatment can be long and difficult but ultimately effective.
Symptoms
The nail begins to discolor, usually to opaque white or yellow
This usually begins at the tip of the nail and works its way down
The nail begins to thicken and become unattractive
As the nail thickens, it can develop darker yellow and brown spots
The nail becomes brittle and begins read more...
Topical Medications to Treat Nail Fungus
There are a wide variety of treatments available to cure nail fungus. Some of these treatments are oral and some are topical. Topical treatments are available as prescription, over-the-counter and natural or alternative. Most people prefer using a topical treatment to an oral medication because the topical medication has far fewer risks associated with its use.
The topical prescription medication Penlac (otherwise known as Ciclopirox) is a relative newcomer to the U.S. market. Approved by the FDA in 1999 and in Canada in 2004, this was a wonderful improvement in the treatment of nail fungus as up u read more...