Archive for the 'Toenail Fungus Treatment' Category
A Quick Overview of
Toenail Fungus Treatment Options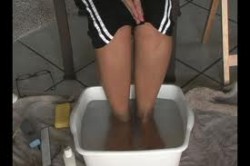 Toenail fungus is one of the most common and contractible diseases, as well as one of the most difficult to cure. The first thing you have to do is determine the cause of the infection. Is it fungal, bacterial, something else? And which kind of nail fungus is it? Is it Dermatophyte or yeast? Once your doctor has identified the source of the infection you can determine the course of treatment. Many people choose the home remedy path and find it very effective. Please note, if your nail fungus infection has reached the point where there is pain and/or drainage (oozing pus) you are well past the point wher read more...
What Nails Are and How They Become Infected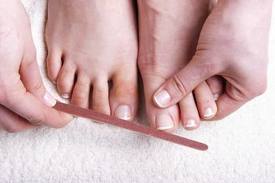 Our nails look like clear, hard sheathes that cover part of our finger and eventually grow out over the edge. Most people have a bit of a pinkish tinge underneath their nails. The nail itself isn't pink but allows the color of the skin and blood vessels directly underneath to show through. This is what a normal, healthy nail should look like.
A nail infection discolors the nail to a whitish or yellowish color at first, then as it grows, brown and black can become part of the color scheme.
Nails are made up of keratin, the same protein that builds our hair and the outmost layer of our skin. Keratin is a strong-celled protein that is fairl read more...
The Ins and Outs of Treating Fingernail Fungus Infection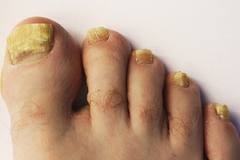 Our nails are mad of keratin, which is similar in structure to bone but not the same. It works to protect parts of the skin and tends to be a telltale indicator for signs of internal problems.
Most people are familiar with toenail fungus infections. A lot of people have them and they are caused by the fact that toes tend to spend a lot of time in dark, damp environments and come into contact with a lot of things that may be carriers for fungal spores. However fingernails can also become infected by fungus. The first sign of infection is usually the nail becoming discolored and then thickening, especially along the tips. This looks very read more...
Welcome to the Blog Section of NailsFungus.org

In this section you will find articles and videos on nail fungus and nail fungus treatments. Feel free to search for a subject concerning you or just browse around. We have amassed the largest informational database on nail fungus on read more...
Are There Any Over the Counter Nail Fungus
Treatments That Actually Prove Effective?
As microorganisms go, fungi seem to be one of the strongest strains. It is much harder to kill them than bacteria and viruses. Dermatophyte, molds and yeasts can invade your nails and burrow deep into the nail itself, creating quite the armor of keratin for this marauding nail fungus. This makes treating onychomycoses much more difficult as even powerful antimycotic medications are not always entirely effective. So this begs the question of whether any of the available over-the-counter nail fungus treatments are effective and worth your time and money.
It is an unfortunate but true fact that very few topical treatments, whether prescription or over-the-counter, effectively treat and cure nail fungus infec read more...