Archive for the 'Toenail Fungus Treatment' Category
Onychomycosis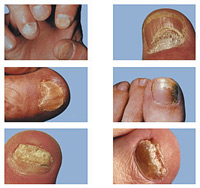 Onychomycosis is a broad term for many different kinds of fungal infection. Our nails are necessary parts of our body and protect the sensitive tissue beneath them from harm. Onychomycosis makes our nails look bad and become brittle with development of the disease. Treatment can be long and difficult but ultimately effective.
Symptoms
The nail begins to discolor, usually to opaque white or yellow
This usually begins at the tip of the nail and works its way down
The nail begins to thicken and become unattractive
As the nail thickens, it can develop darker yellow and brown spots
The nail becomes brittle and begins read more...
Available Prescription Medication
for Fungal Toenail Infections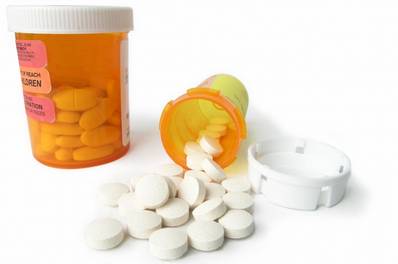 Antifungal medications are most commonly used to treat toenail fungus infections. These are normally oral prescription medications and unfortunately have a long list of potential risks and side effects. There are topical fungicides that are prescription strength and available on advice of your doctor. Both kinds of medication require a treatment regimen of 12 weeks for toenail fungus and 6 weeks for fingernail fungus. The length o read more...
Curing Toenail Fungus with Prescription Drugs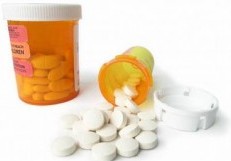 Thanks to the advancements of modern medicine, curing toenail fungus with antifungal prescription medicines has become quite regular. As this is an infection that can spread easily, both throughout a person's nails and through a populous, treating it has become of higher concern than it used to be.
What does an infected toenail look like?
The first and most common symptom to develop is a whitish or yellowish spot on your nail. Gradually this will cover your entire nail and you may eventually develop dark yellow and brown spots on the nail. Your nail will become thick and britt read more...
Easily Applied Home Nail Fungus Remedies
Having unattractive toenails is embarrassing and even humiliating. There are many ways to solve this incredibly common problem.
How Does My Nail Become Infected?
Toenails come into contact with microorganisms that get onto the skin, the nail sheath and underneath the nail to the nail bed. Any and all of these places can easily become a hotbed (literally) for infection. Once you have contracted a fungal infection, it can be very difficult to cure.
As these microorganisms are fungal spores, they thrive in places that have no light and high humidity. This makes the feet very susce read more...
The Beer Soak Method – A Homeopathic remedy
for nail fungus. How to do it and why it works.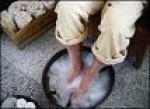 The strange yellow color that you see on your finger and toenails is not only unattractive but possibly harmful. This is caused by a fungus that lives just along the nail bed and beneath the nail itself. It is not uncommon for affected nails to become rough and thick, along with the yellowing that has already been spoken of. So if you don't wish to take a prescription medication as recommended by a doctor, what do you do? Fortunately there is another option for folks who prefer the homeopathic approach to medicine.
By combining dark beer, more commonly read more...