Posts Tagged 'fungus spores'
8 Good Questions to Ask About Nail Fungus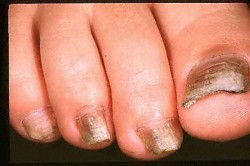 Nail fungus is a global problem. Many people do not understand how nail fungus infections are contracted, nor how to prevent them.
Here are 8 great questions, answered for your enlightenment, so you understand what fungal nail infections are and what causes them.
What is a nail fungus infection?
Dermaphytes, a microscopic organism are usually the culprit of nail fungus. As they are a fungal life form, they don't require light to grow. The spores cause the nails to become yellowed and thick.
Why does the nail provide such a great place for the fungus to live?
Fungus likes to live where i read more...