Archive for the 'Nail Fungus Treatment' Category
Acrylic Nail Fungus Infections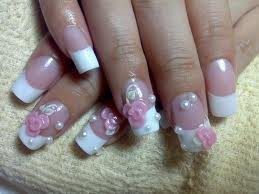 Many people choose to have acrylic nails applied to their hands. These are usually much stronger than the normal human nail and for those whose nails are very weak, it is an excellent solution to their problem of constant breakage or unattractiveness.
However there is the potential for a fungus to get in between the acrylic nail and the natural nail and find a great place to grow. Most salons practice excellent hygiene. However some don't. Those are probable breeding and propagating grounds for the fungus. If you have your nails done, make sure you go to a salon that sterilizes their equipment between customers and uses antibacterial products.
Sometime read more...
Home Remedies to Cure Nail Fungus
Is there any evidence that they work?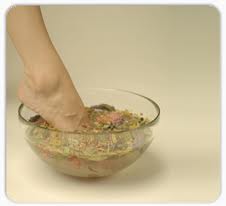 Many people suffer from onychomycosis, more commonly known as nail fungus or toenail fungus. Prescription drugs are available to cure this condition but many of them have been found to have side effects, such as Liver Damage, that can be severe. Because of this factor, people who have this condition search out alternative remedies to treat their onychomycosis. This begs the question, "Do these home remedies work? And if so, are they safe and which ones are the most effective?"
Several different ho read more...
Removing All of or a Portion of Your Nail
to Treat Nail Fungus – Is it Effective?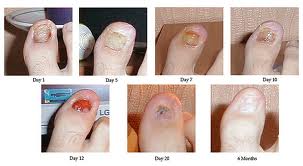 No one really knows. Little to no research has been done on removing all or part of the nail to treat a nail fungus infection. That's because it's sort of a last resort treatment for dealing with onychomycosis. However if you are unable to take any of the oral medications suggested for treating onychomycosis and if none of the topical solutions are effective, or if you have tried treating your nail fungus in several ways and none of them have been effective, then surgery may be an option.
Another thing to consider is if you continue to experience recurring nail fungus infect read more...
Koilonychia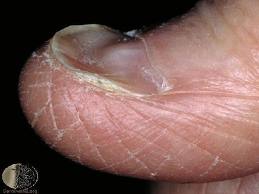 Koilonychia is a hereditary disorder that affects the fingernails. The nails start to get thinner and end up lifting at the outer edges, a condition more commonly known as spoon nails. This is caused by the poor absorption of iron into the bloodstream, also known as anemia.
What Causes Koilonychia?
The following are common causes of Koilonychia:
Poor circulation
Poor Thyroid Function
Muscle Skinning Condition
Universal Lupus
Hemochromatosis
Patella Syndrome
Reynaud's Syndrome,
Erythematosus
Poor health
Iron deficiency
Overuse of soaps and oilsread more...
Common Nail Fungus Symptoms and Solutions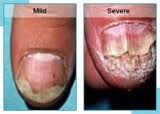 Suffering from some form of nail fungus is very common in humans. Because we find this embarrassing, we tend to hide the infected nail from view. This is especially true with toenails as they are easiest to hide inside a stuffy, warm set of shoes and socks.
Solving this problem can be both easier, and more difficult than you think. There are many products available to cure nail fungus. However some of them include some risk of further problems, some don't and will never work, and some people just have the problem of poor health that leads to continued infection.
What Causes Nail Fungus?
Every day we encounter many differ read more...