Prescription Treatments for Onychomycosis
A Doctor's Recommendations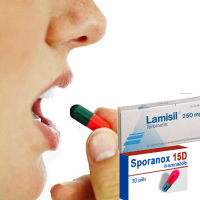 Where once onychomycosis was considered solely a cosmetic problem, doctors are treating it with greater concern. Nail fungus is unattractive, yes, but it also affects the infected person's willingness to interact with others, especially in situations where exposing the infected nail or having other people come into contact with it may make the sufferer uncomfortable.
Beyond the psychological and social repercussions associated with onychomycosis, the basic function of the nail is disrupted. The point of having the nail sheath (the hard part of the nail) is to act as an armor for the soft tissue beneath and to assist in how we sense and interpret the world. A foot that has an infected nail or nails may interfere with normal sensation and even the ability to walk. Add to this the possibility of a nail fungal infection allowing for what is referred to as a 'superinfection', the chance that other bacteria and viruses could layer themselves on top of the fungal infection and cause further harm, and it is time to fix the problem.
These are the reasons behind the medical communities more aggressive treatment of onychomycosis. On the patient side of the equation, more people are requesting treatment and mentioning the problem to their doctors earlier to nip it in the bud.
There are two basic categories of treatment for onychomycosis. Oral (by mouth) and topical (applied directly to the infected area) Which treatment your doctor chooses will depend on a variety of factors. If the lunula (white area at the base of your fingernail) is affected by either distal subungual onychomycosis or proximal subungual onychomycosis then the oral medical prescription is the method of eradication. How the patient feels about the entire process is taken into account as well. Therefore it is not uncommon to use both an oral and a topical medication in conjunction. Working the infection from both sides of the body (in and out) can be a very effective treatment.
Choosing the oral prescription medication treatment is not to be considered lightly. One of the main drawbacks of this method of fungus eradication is that all of the antimycotic (antifungal) medications available for the treatment of onychomycosis have the potential to cause liver damage. It is imperative that your doctor test your liver function before beginning a course of these drugs and it is likely that your doctor will continue to monitor your liver during the treatment. If a patient has any history of or current liver problems, an oral medication should not be taken. The patient should monitor themselves as well, telling their doctor if they experience upper abdominal pain, malaise, fatigue, or if they notice jaundice (yellowing skin or yellowing of the eyes), pale colored stools or particularly dark urine.
In the past, Griseofulvin was the only available oral prescription medication to treat onychomycosis. It did work, but not terribly well and usually came with a passel of side effects, particularly when moderate to high doses were recommended. Griseofulvin treatment also took a long time and it was common for the infection to reoccur after the treatment stopped. Fortunately a variety of options have been created since then.
Terbinafine, more commonly known as Lamisil is very effective at fighting onychomycosis caused by dermatophytes, which is the most common cause of the disease. Terbinafine is prescribed as a 250 mg pill taken once a day for six weeks for fingernail infections and for twelve weeks if treating toenails. In some cases, pulse therapy (taking a drug for a certain period of time, then giving the body time off) has been effective. A complete blood count and liver panel should be taken before this treatment is started as well as four weeks into the therapy.
Itroconazole also known as Sporanox is also commonly administered in pulse dosing. The usual treatment schedule is 200 mg by mouth once a day for one week per month over the course of three months. Itraconazole can have negative reactions with several other forms of medication so telling your doctor exactly what you are currently taking before starting treatment is a medical necessity. A liver panel should be taken before this treatment is started and four weeks into the therapy.
Fluconazole, otherwise known as Diflucan is taken once a week in either 150 or 300 mg doses until the symptoms are gone. The treatment may last up to nine months before positive results are seen. Again, this drug may have negative interactions with other medications so tell your doctor what you are currently taking to avoid this. No blood tests are required when taking fluconazole but your doctor may order them anyway.
It is most common to use topical onychomycosis prescriptions in cases that are caught early on and therefore still mild, and in conjunction with an oral medical prescription. An incredibly effective topical prescription is Ciclopirox, commercially known as Penlac. This is an 8% topical solution that is applied to the infected area once a day. While it is a safer delivery method than oral antimycotics, when used alone it only achieved a 5% success rate.
When all other methods have failed, and/or in severe cases of onychomycosis, surgery becomes an options. There are three different methods of surgical nail removal: mechanical, chemical or surgical nail avulsion (removal). The nail can be mechanically or surgically avulsed (torn off) which is done after numbing the area with a local anesthetic as it can be quite painful. This is most common when the nail has already pulled away from the nail bed. A concentrated solution of 50% urea can be used to both eradicate the infection and soften the nail for removal and can be a fairly painless process. Once the nail has been removed, keeping the area clean and dry to prevent further or re-infection is necessary.
References
Ciclopirox (Penlac) prescribing information
Fluconazole (Diflucan) prescribing information
Itraconazole (Sporanox) prescribing information
Terbinafine (Lamisil) prescribing information