Archive for the 'Nail Fungus Cause' Category
Myxiod Cyst or Digital Mucous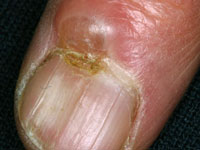 A Myoxid cyst develops because of alterations in the tissue on the tip of the toe. A cyst is a shiny, smooth bump. It is soft and rubbery and looks sort of transparent. When they develop, it is usually towards the end of fingers or toes. Usually they are about 1/5-3/5 inch wide and form in a circular or ovoid shape. Digital Mucous occurs when these cysts burst and emit a thick fluid, whitish or yellowish in color. These cysts occur more commonly in women and in people 45 years or older.
What Causes This?
Myxoid cysts usually develop where a recent minor trauma or an old injury have occurred. Friction (similar to a blister) is also a culprit. Submerging your hands in water for a long time can make these cysts occur as your body soaks up the liquid and it collects as a bump, potentially developing a bit of an infection.
How Do I Treat It?
The nice thing about this particular disease is that there is no urgency in seeking treatment until it becomes painful or begins to throb. Sometimes this disease is self- curing and it just goes away, it can also be eliminated by pressing on or squeezing the cyst. Medically, the popular way to remove these cysts is cryotherapy or freezing.
Cryotherapy is the process of freezing an area of skin to kill off infection. The most commonly used freezing chemicals are liquid nitrogen, carbon dioxde snow, propane, and Dymethy ether. Of these, liquid nitrogen us most used. This has become a very safe, fast and effective way of removing many kinds of unwanted cysts and warts.

Liquid Nitrogen (NO2) Treatment – A cryoprobe, cryospray or coated cotton tipped applicator is applied to the affected area. This freezes the cyst and allows the skin to heal.
CO2 Snow Treatment – Carbon Dioxide Cryotherapy uses a tube of icy carbon dioxide flurry, sprayed directly onto the affected skin
DMEP treatment – Using a foam applicator, the chemical is applied directly to the affected area for between 20 and 50 seconds, depending on the size and place on the body.
Myxoid cysts can be removed surgically but this increases the possibility that they will reoccur. If you choose this method, your doctor will examine the cyst with an ultra-sound or x-ray. It is also likely that an MRI will be scheduled.
If the cyst is not particularly painful, your doctor can insert a needle into the cyst and withdraw the fluid that way, leaving the skin to heal.
Welcome to the Blog Section of NailsFungus.org

In this section you will find articles and videos on nail fungus and nail fungus treatments. Feel free to search for a subject concerning you or just browse around. We have amassed the largest informational database on nail fungus online and are here to help…
Your Local Gym as the Breeding Ground
for Fungus Infection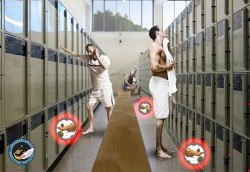 When people go to the gym, they think about getting healthy, building muscle, losing weight, an adrenaline rush, not about what might make them sick. Unfortunately the gym and public pool are both great places for the fungus that causes nail infections to breed and spread.
Why is this? Well most of these places have a place to change (even if it is just a dressing room) or a locker room with showers, even just a place out in the open to rinse off. All of these places have the potential to create colonies of fungus. As many of them have a tiled floor, the fungus likes to breed in the grout, the white glue between the tiles. When you walk over this grout with bare feet, you risk having the spores of the fungus attach themselves to you and find a way underneath your nails. How awful that you are able to take time to do something good for yourself, only to discover that you have accidentally contracted an infection, through no real fault of your own.
How Can I Prevent This?
The first thing to look at is your own footwear. If your gym shoes are old and worn out, they may be a potential breeding ground for fungus of many kinds all on their own! It may just be time to invest in a new pair of gym shoes. If you are able to, consider getting two pair so that you can rotate between them, allowing one pair to dry out thoroughly before you wear them again. Either way, make certain your shoes are dry inside before you put them on for exercise. Wear clean socks with them as socks can also hide fungal spores.
When you walk into the shower, wear some sort of rubber flip flop or shower shoe to protect the soles of your feet. Again, make certain that these dry out before you put them on as the humidity and darkness of the average shoe makes for ideal fungal breeding grounds.
Keep yourself healthy over all. If you go to the gym when you're sick, absolutely practice good hygiene and make certain to wash your hands and feet, with soap and dry them well. The less chance of the fungus having a good place to live, the less likely they will be to grow.
And What Do I Do if I Do Become Infected?
If you catch it early, meaning your toenail has turned white or yellow at the tips but it hasn't affected the entire nail yet, or gotten thick and brittle, you can soak your toes in vinegar. Take a large bowl or tub, fill it with half vinegar, half warm water, and soak the infected toes in it for 20-30 minutes, twice daily until the toenails have cleared up. Vinegar changes the pH of the growing environment for the nail fungus, making it "hostile", thus harder for them to live in. White or apple cider vinegar are usually the best choices for treating a fungal nail infection.
Koilonychia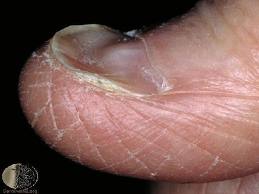 Koilonychia is a hereditary disorder that affects the fingernails. The nails start to get thinner and end up lifting at the outer edges, a condition more commonly known as spoon nails. This is caused by the poor absorption of iron into the bloodstream, also known as anemia.
What Causes Koilonychia?
The following are common causes of Koilonychia:
Poor circulation
Poor Thyroid Function
Muscle Skinning Condition
Universal Lupus
Hemochromatosis
Patella Syndrome
Reynaud's Syndrome,
Erythematosus
Poor health
Iron deficiency
Overuse of soaps and oils
Glossitis
Cheilosis
Pica
Undernourishment
Symptoms and Solutions
Koilonychia is a symptom of anemia and/or iron deficiency. It needs to be caught quickly once the visual symptoms have shown. Granted, spoon nails can also be caused by worrying the edge of the nail, causing them to detach from the nail bed and curl up. However there are many ways that Koilonychia can be prevented.
Wear protective covering on your hands while washing dishes or immersing your hands in liquid for a long period of time.
Don't bite your nails as this can cause irritation and inflammation to the nail bed
Obtain proper nourishment whenever possible
Take vitamin supplements
Work with your doctor to identify the cause of your anemia and supplement your diet accordingly.
Don't eat or drink things that cause your system to shed iron, for instance, caffeinated beverages slow down iron absorption.
Take vitamin C and Iron supplements to increase healthy nail growing capacity.
Treatment usually consists of taking an iron supplement once or twice a day, and/or increasing the iron rich foods in the affected patient's diet. The intestinal system may or may not allow the full absorption of the increased iron dosage, depending on the person.
What You Need To Know About Toenail Fungus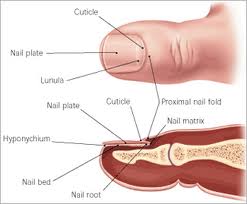 Toenail fungus infections are all caused by a fairly common set of conditions that can affect up to 12% of the American population. A fungus is a living organism that enjoys dark, damp places. Because of this, most people get a fungal nail infection in their toes. It does sometimes occur on fingernails, but as the feet offer a much more hospitable environment, that is the most sought after area for these little life-forms. The fungus can live along side the nail, or burrow underneath the nail. There are several factors that determine where the infection is actually located, two of which are the progression  and severity of the infection.
Doctors have noticed that a the beginning of an occurrence, it is most likely that the fungus lives along side the nail and gradually works its way underneath the nail to the nail bed as the infection progresses. Early symptoms of a fungal nail infection include a white or yellowish spot on the nail. As pain or discomfort are not common at this stage of infection, most people don't notice the problem until it has progressed further.
As the infection develops, things become a bit more noticeable, even if these changes happen slowly. The nail dulls and gradually becomes yellowed and sometimes the toenail changes its shape. This is caused by the thickening of the nail and potential crumbling at the edges as it becomes more brittle and frail. The thick, yellowing, ridged nail is the trademark of the condition. This is when people tend to feel discomfort from the infection, sometimes caused by the nail separating from the nail bed.
If you allow this condition to progress sufficiently that your toenail separates from the nail bed, exposing the soft skin below, it is possible that this can result in further, and more serious, infection. If you see pus oozing from your toe, or if there is a bad odor when you take off your sock, it is now time to go see your doctor, immediately.
The myth about the toenail fungus microorganism is that it is only found in dirty places. Much like its cousin, the mushroom, this microorganism is happy to breed wherever and whenever it can. If its living conditions are correct, it will be there and will inevitably come into contact with hands and feet that it will send its spores onto to continue increasing the population. This is a fungus that everyone comes into contact with daily. Infection occurs when you give the fungus an environment in which it can thrive.
The medical community refers to this particular fungus as dermatophytes. While there are other causes of nail fungus infection, including yeast and mold, dermatophytes are the most common culprit.
There are things that may make a person more susceptible to toenail fungus, such as:
An unhealthy immune system
Peripheral artery disease
Trauma to the foot, especially if the toenail has been damaged
Abnormal skin pH
Poor hygiene
Previous fungal nail infections
It is unlikely that a fungal nail infection will become life threatening or debilitating. However they can cause pain and discomfort as well as affect a person's self esteem because of the appearance of the nail. Because treating toenail fungus can be difficult, doing your best to prevent infection is the most effective cure. If you are concerned that you have an infected toenail, consult with your health care provider. Between the two of you, the state of your foot health can be determined and a course of action can be enacted.