Posts Tagged 'acrylic nails'
Acrylic Nail Fungus Infections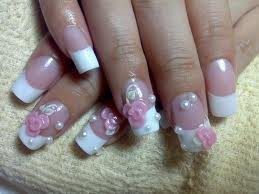 Many people choose to have acrylic nails applied to their hands. These are usually much stronger than the normal human nail and for those whose nails are very weak, it is an excellent solution to their problem of constant breakage or unattractiveness.
However there is the potential for a fungus to get in between the acrylic nail and the natural nail and find a great place to grow. Most salons practice excellent hygiene. However some don't. Those are probable breeding and propagating grounds for the fungus. If you have your nails done, make sure you go to a salon that sterilizes their equipment between customers and uses antibacterial products.
Sometimes there is just nothing to be done. A fungus may just invade, no matter how hard you and your salon try. This can happen if a fungus has already attached itself to your nail, and you have an acrylic one put over the top, or if an item isn't sterilized and it passes the fungus from one infected person onto you. A trained nail specialist is supposed to be able to recognize the symptoms of nail fungus infection and will advise against putting the acrylic nail over the infected nail. This is good, as covering an infected nail just makes the infection worse. Allowing the fungus to have a good growing environment is the worst thing you can do, and having the extra protection of the acrylic nail as well as it trapping warmth and humidity creates that positive environment. Your nail specialist will advise you on treatment options or recommend that you go see a doctor.
What if I Do Become Infected?
There are some very simple treatment options if you do get an infection underneath an acrylic nail.
Using an over-the-counter product such as Lamisil cream to rub on the affected nail and surrounding skin every day. Apply to the top and underneath the nail
Tea Tree Oil, which is both an antiseptic and an antifungal can also be rubbed on the afflicted nail and surrounding skin every day. Apply to the top and underneath the nail.
Cleaning the dirt and gunk out from underneath the nail is another good method as it removes possible spores and possible food sources. Wiping the cleaned area down with rubbing alcohol afterward will help to kill off the fungi already existing.
A last resort is to go to your doctor and discuss the prescription medicine options that are available. Many of these come with serious side effects, such as potential damage to the liver, so make sure this is something you are healthy enough to do and willing to see through to the end.