Posts Tagged 'Leukonychia'
Leukonychia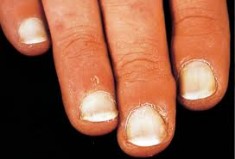 Leukonychia is a nail condition. It manifests as the nail changing color either partially or fully. This disease can be caused by systemic problems or most commonly, it is a genetic disorder. The nail appears to have the standard shape and appearance, except for the fact that the nail turns white. This is caused by the presence of "parakeatotic cells". These cells have an undeveloped and bulky nucleus, which contain 'keratohyalins'. This cell variation causes the nail to reflect light and makes the nail appear opaque white.
Types of Leukonychia
True Leukonychia:
This type of Leukonychia is broken into two variations, total leukonychia and partial leukonychia. The difference seems to lie in the nail being either fully white, or only two thirds discolored as it takes a while for the maturation of the keratin to occur and change.
Total Leukonychia is an autosomal dominant condition. Other circumstances that may cause total leukonychia to occur are;

Leprosy
Typhoid
Cytotoxic drugs
Nail Biting
Partial Leukonychia is viewed as a phase of total leukonychia. The most common causes of partial leukonychia are:

Metastatic carcinoma
Tuberculosis
Leprosy
There are three different variants of partial leukonychia.
Transverse leukonychia – This causes the nail plate to be multi colored in its opacity. It is seen mostly in women's fingernails. Possible causes are:

Acute respiratory infections
High fever
Malaria
Leprosy

Punctuate leukonychia – This is the most common form and can happen to anyone. The telltale symptom is that the nail appears to have tiny opaque spots which fade with time.
Longitudinal leukonychia – A small white line under the nail plate
Pseudo Leukonychia
This occurs when a discoloration in the nail appears due to a change in the nail bed. Pseudo leukonychia has three different forms:
Terry's nails – This affects the majority of the nail and makes it multi-colored. The majority of the nail is white, the rest, pink or brown.
Muhrecke's nails – The nail appears to have several white transverse bands
Half and half nails – This is seen as a larger part of the nail being dull white and the rest being brownish in color.
Treatment
Increasing the quantity of grains, vegetables and nuts and even taking a zinc supplement (as zinc deficiency is a cause of leukonychia) is a good preventative and treatment, as is keeping affected nails out of harms way when using chemicals of any kind as they can further damage the nail.