Posts Tagged 'toenail fungal infection'
How Can I Permanently Cure My Toenail Fungus?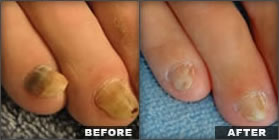 Doctors tend to shy away from the word "cure" when referring to toenail fungus because it is not an easy thing to do. We have become a very busy society that believes popping a pill will take care of everything. Unfortunately that is not the case with toenail fungus. Onychomycosis, the medical term for toenail fungus is hard to cure because the treatment regimen is very long and can be quite involved. Most kinds of fungus are able to lie dormant for a long period so people will go through treatment and get positive results, only to find that the infection returns. Curing toenail fungus permanently is a possib read more...
So How Do I Tell if My Toenail
is Infected With a Fungus?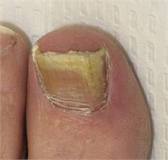 Having a nail that is infected with a fungus is not all that uncommon as it affects 10-12% of the American population. A toenail fungal infection is caused by microorganisms that lodge in the tiny cracks in the skin around the toenails. As the foot usually lives in a dark, damp environment, this is an ideal growing medium for the fungal spores. The symptoms of a fungal toenail infection are fairly consistent and if you know what to look for it is easier to catch it early on.
The first symptom to show up is usually a white or yellowish spot on the toenail. This may be a minute object, which makes it read more...