Posts Tagged 'common disease'
Living With A Nail Fungus Infection
Having a nail fungus infection does not single you out, in fact it makes you part of the 20% of the world population that is also afflicted with this disease. Although it is unsightly, it is possible to live with, and cure, if you're willing to put in the effort it may take. If you're reading this, you may already be affected with this rather common disease. Below is more information to help you.
Nail fungus is a microorganism that lodges and grows on and under the nail. It can occur on both the finger and toenails. In fact, it's really not a very discriminating fungus as it will happily grow anywhere it can. The biggest problem with nail fungus is not that it can do much harm, but that it takes so long for an infected person to notice the discoloration in their nail, and usually even longer for them to do anything about it. By then, the fungus has worked its way underneath the nail sheath and into the nail bed where it is much harder to get at. The fungus's goal is to find a warm, wet place to survive. The infected person's goal is to get rid of the fungus and get their healthy nail back! The faster you notice and start treating a fungal nail infection, the more likely you are to cure yourself of it.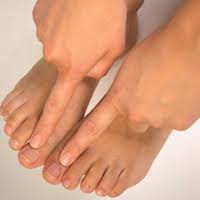 Avoid Becoming Infected in the First Place
The simplest solution to a nail fungus infection is not to get it to begin with. There are lots of easy precautions you can take to avoid this disease.
Think carefully about your regular day and where you might come into contact with these fungi. They tend to live in wet environments, like public bathrooms, locker rooms, public pools, etc. When you use these areas, make certain to wash your hands with an antibacterial soap. If you need to walk in these areas with exposed feet (for instance, to take a shower or get to the pool) wear a protective covering, like flip flops, to avoid contact with the fungus.
Don't wear wet clothes for a long period of time. If you get soaked in the rain, try to dry off and change as soon as possible. If you've been swimming, change out of your suit and into dry clothes before leaving the pool. If you sweat a great deal while working out, shower, dry thoroughly and change into clean clothes before leaving the gym. This rule is especially true to avoid toenail fungus infection as many people don't change their socks and shoes after exercise and that is an ideal breeding ground for nail fungus.
Stay healthy. Eat foods that will help you fight fungal infection, like yogurt and garlic. Take supplements of beta carotene, and vitamins B, C, D, and E. Use neem tree oil, tea tree oil, red thyme oil, and lemon oil on your skin to control a fungal infection if you contract one. Don't eat yeast filled products, like brewer's yeast or beer, if you have a nail fungus infection.