Some Useful Information When Looking
for Nail Fungus Treatments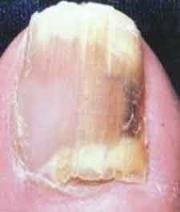 Nail fungus, known medically as Onychomycosis, is not an easy condition to treat. Primarily cosmetic in nature, it most commonly affects the toenails.
People who are at risk for contracting nail fungus are:
Older people,
Males,
People with diabetes
People who have had trauma to their nails
People with hyperhydrosis
People who suffer from peripheral vascular disease
People who have athlete's foot
People with an immunodeficiency
People who practice poor hygine
People who spend a lot of time read more...
What Nails Are and How They Become Infected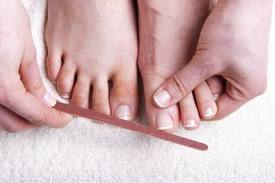 Our nails look like clear, hard sheathes that cover part of our finger and eventually grow out over the edge. Most people have a bit of a pinkish tinge underneath their nails. The nail itself isn't pink but allows the color of the skin and blood vessels directly underneath to show through. This is what a normal, healthy nail should look like.
A nail infection discolors the nail to a whitish or yellowish color at first, then as it grows, brown and black can become part of the color scheme.
Nails are made up of keratin, the same protein that builds our hair and the outmost layer of our skin. Keratin is a strong-celled protein that is fair read more...