A Doctor's Detailed Description of Onychomycosis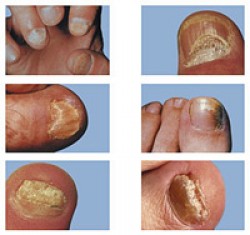 Onychomycosis is the medical term for a fungal infection of the fingernails or toenails. Onycho refers to the nail, mycosis refers to fungal infection. This condition represents about 33% of all fungal skin infections. Approximately half of all diagnosed diseases of the fingernails or toenails are onychomycosis.
Onychomycosis usually occurs in older people, most commonly 40 and above. The likelihood of the disease occurring in adults rather than children is about 30%. Onychomycosis is a regularly occurring disease and the chances of contracting it increase as people age. Approximately 20% of all people between the ages of 40 and 60 have onychomycosis. It is thought that upwards of 90% of elderly patients have it.
Onychomycosis occurances
Onychomycosis occurs more regularly in men than in women, however women are more likely to contract a specific type of the fungus called Candida. The disease seems to have no preference in race. There has been an increase in the number of cases of onychomycosis in recent years. Doctors believe this has to do with people living longer, thus facing the greater probability of diseases that are common causes of onychomycosis. For instance, the level of diabetes has increased in the population as well. The same corollary can be drawn between the aging population and the number of people with diabetes. Interestingly enough, having diabetes makes it more likely that a patient will contract onychomycosis as diabetics have a harder time fighting off infection and healing from wounds. Poor circulation is another commonly related disease as people who suffer from this have a less healthy immune system.
The most common symptom and complaint of sufferers of onychomycosis is the disfiguration of the nail. One of the greatest difficulties in catching a fungal nail infection early on is that it doesn't present serious symptoms, especially in the beginning, when it is easiest to cure.
The fact that onychomycosis disfigures the nail is not to be disregarded. It causes people to avoid certain social interactions because of the embarrassment they feel having a nail fungus will bring. They become concerned that a fungal infection is infectious or that they will be seen as "unclean" or "unhealthy". It is of serious concern to doctors, the psychological and emotional effect that onychomycosis can have on people.
Although this disease starts as a series of cosmetic symptoms, if left unchecked it can develop into a far more serious set of problems. Pain in the affected finger or toe can occur. Because the nail thickens, it deadens the sensitivity in the affected digits. This can lead to loss of sensation and therefore ability in the hands and feet. Tasks like writing and other daily activities are affected by fingernail fungus, being able to sense the floor, causing difficulty with walking and even causing serious falls, are an advanced symptom of toenail fungus. For patients who are already affected by diseases that cause problems with the nerves in the legs, this can make things even worse.
There are four main types of onychomycosis:
Distal subungual onychomycosis – This is the most common form of onychomycosis and is caused by a dermatophyte called Trichophyton rubrum. What happens is the dermatophyte penetrates the nail plate and buries itself in the nail bed. The term 'subungual' refers to underneath the nail. The infection manifests as a whitish-yellow growth under and on the nail towards the tip (the part you trim) This then works its way down toward the cuticule and underneath to the nail bed. The nail becomes thick, pitted, ridged and can start to crumble.
Proximal subungual onychomycosis – starts at the cuticle end of the nail instead of at the tip. It then works its way up the nail and under the nail as the nail grows out. This form of nail fungus infection occurs more regularly in people who have issues with immune deficiency. Proximal subungual onychomycosis is caused by Trichophyton ruburm, just as distal subungual onychomycosis is, but it is also caused by other fungi and molds.
White superficial onychomycosis – This is probably the least commonly occurring form of onychomycosis, happening in only 1 of 10 cases on average. This fungus develops on the top of the nail or in its topmost layers. As the name 'white superficial' would imply, this is a lesion that forms at the top of the nail and is white in color. Gradually, the fungus will take over the entire nail if left unchecked. Unlike most other forms of onychomycosis, white superficial onychomycosis is caused by Trichophyton mentagrophytes, a different dermatophyte.
Candida onychomycosis – This final form of onychomycosis starts out its life as chronic mucocutaneous candidas, or reoccurring mucous level or low level yeast infection. This tends to affect the skin surrounding the nail, specifically in the proximal and lateral nail folds. Usually multiple nails are affected by Candida onychomycosis and the nails can be fully destroyed by this more serious form of fungal infection.
References
Hainer BL. Dermatophyte infections. Am Fam Physician 2003;67:101-108.
Jaffe R. Onychomycosis: recognition, diagnosis, and management. Arch Fam Med 1998;7:587-592.
Kaur R, Kashyap B, Bhalla P. Onychomycosis–epidemiology, diagnosis and management. Indian J Med Microbiol 2008;26:108-116.