What Are The Most Effective Treatments
for Nail Fungus Infections?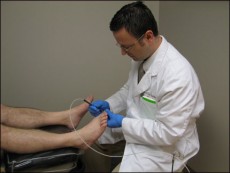 Figuring out which treatment will work best for you is part of the process of curing your nail fungus infection. There are many options out there and whether this is a long term infection or a very bad infection, it can be eliminated. However this will require patience. It can take months to clear up a nail fungus infection.
Good things to know about treating nail fungus infections
Getting rid of a nail fungus infection requires a lengthy treatment, no matter which option you choose.
Fingernails tend to clear up faster than toenails. If you have an infected fingernail it is likely that your treatment course will be faster.
With some medications, there is a risk of liver damage although this is not common. Your doctor may recommend a blood test to see if your liver is healthy enough to support your treatment
The most common method of prescription treatment is an oral medication (pills). Other options include topical treatments that you apply directly to the nail. A more mild case of nail fungus infection may be treated with a nail varnish or Tea Tree Oil.
With a severe or reoccurring infection, your doctor may recommend removing part, or the entire nail. This is usually left as a last resort.
If your nail fungus infection is mild and doesn't bother you, it may be best to leave it alone.
Many things can be done to keep a nail fungus infection from reoccurring. To learn more, read "How To Keep From Getting a Fungal Nail Infection"
Available Treatments for Fungal Nail Infections
How to find the best treatment? Here is a list of the currently available treatments for nail fungus infections, divided into three categories to help you determine what might work best for you.
It is always best to consult with your health care provider to determine the best course of action. You can also use current medical research to learn about treatment options.
Most likely to be effective and least harmful:
Itraconazole Pills (commercial name, Sporanox): This is an antifungal oral medication. It treats nail infections caused by fungus.
Terbinafine Pills (commercial name Lamisil): This is an antifungal oral medication. It treats nail infections caused by fungus
Likely to be effective but possibly more harmful:
Fluconazole Pills (commercial name Diflucan): This is an antifungal oral medication. It is used to treat infections caused by fungus but fluconazole is not commonly given for nail infections.
Ciclopirox lacquer: An excellent choice if you wish to avoid taking pills to clear up your nail fungus infection, especially if your case is mild. This antifungal nail polish is applied directly to the affected area. The commercial name for ciclopirox is Penlac Nail Lacquer.
Needs further research:
Griseofulvin Pills (commercial name Grifulvin V): Griesofulvin is actually an antibiotic. It isn't as effective as other medications in clearing up a nail fungus infection.
Ketoconazole Pills (commercial name Nizoral): Ketoconazole is an antifungal oral medication that is rarely used because it can cause damage to the liver.
Terbinafine Cream or Spray: Terbinafine also comes as a topical cream and a topical spray. Its commercial name is Lamisil
Removing a portion of or all of your nail: This is usually done for very severe nail fungus infections or when people experience reoccurring symptoms. This is a treatment that doctors tend to suggest when all else has failed.