Posts Tagged 'fungal nail infections'
Available Prescription Medication
for Fungal Toenail Infections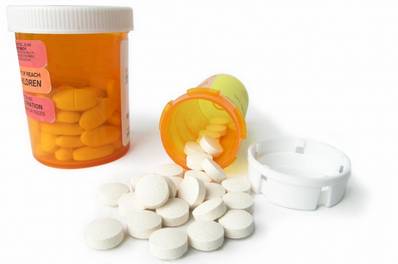 Antifungal medications are most commonly used to treat toenail fungus infections. These are normally oral prescription medications and unfortunately have a long list of potential risks and side effects. There are topical fungicides that are prescription strength and available on advice of your doctor. Both kinds of medication require a treatment regimen of 12 weeks for toenail fungus and 6 weeks for fingernail fungus. The length of treatment can vary with the severity of the infection.
Curing a toenail fungus infection can be very difficult and time consuming. Before you and your doctor agree on a treatment, it must be determined what kind of fungal infection you are suffering from. Once this is established, your doctor will prescribe a medication to eliminate the fungus. This is where you need to be educated and verbose. You need to tell your doctor about all of the medications you are taking, including supplements and herbal remedies. The prescriptions available to cure fungal nail infections are very hard on the system and can cause serious drug interactions.
Lamisil (otherwise known as terbinafine) is the most popular medication used to treat fungal infections. This medicine is most effective for dermatophytic infection. Lamisil is prescribed at 250 mg per day for 6-12 weeks. Another component of this medication is numerous blood tests to ensure that your liver is healthy enough to follow this regimen and that no damage is occurring during the treatment cycle. This makes this particular treatment very expensive. An initial baseline test will be done to determine your liver health before you start treatment. During treatment, your doctor will require that you visit the office and may order blood tests throughout the treatment at random, or regular intervals. This is done because Lamisil is processed by the liver and there is the potential for several rare hepatic side effects, including hepatitis, blood dyscrasias and Stevens-Johnson syndrome. Following your doctor's recommendations can protect you from serious liver damage over the course of your treatment.
Another well known antifungal used to treat toenail infections is Diflucan (or fluconazole) Diflucan is most commonly used to treat yeast infections.
Both of these medications can be found in their generic form at pharmacies all over the country for about $4.00 Numerous pharmacies, including Target, Wal-Mart and Publix offer prescription drugs at a discounted rate. Please note, you must have a doctor's prescription to acquire these medications. If you need to take these drugs for an extended period, it may be worth the effort to research which pharmacies offer this program.
Other medications commonly used to treat toenail fungus infections are:
Ciclopirox (commercial name – Penlac) a topical nail lacquer used to infuse the nail with medication
Itraconazole (commercial name – Sporanox) is a newer medication and works similarly to Lamisil
Griseofulvin is an older drug and is no longer regularly prescribed due to its lack of efficacy
Ketoconazole (commercial name – Nizoral) although very effective at eliminating fungus, is not prescribed often because of the high risk of hepatotoxicity.
You and your doctor can work together to find the best antifungal treatment to cure your toenail fungus. The most important part of your treatment will be discouraging the growth of fungus on your own by making sure that your feet are clean, dry and surrounded by breathable materials so that you are not offering a hospitable environment. By following this simple advice, you are much more likely to find yourself fungus free at the end of your treatment.
What Are The Most Effective Treatments
for Nail Fungus Infections?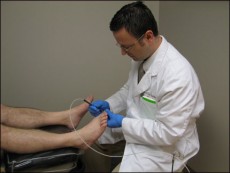 Figuring out which treatment will work best for you is part of the process of curing your nail fungus infection. There are many options out there and whether this is a long term infection or a very bad infection, it can be eliminated. However this will require patience. It can take months to clear up a nail fungus infection.
Good things to know about treating nail fungus infections
Getting rid of a nail fungus infection requires a lengthy treatment, no matter which option you choose.
Fingernails tend to clear up faster than toenails. If you have an infected fingernail it is likely that your treatment course will be faster.
With some medications, there is a risk of liver damage although this is not common. Your doctor may recommend a blood test to see if your liver is healthy enough to support your treatment
The most common method of prescription treatment is an oral medication (pills). Other options include topical treatments that you apply directly to the nail. A more mild case of nail fungus infection may be treated with a nail varnish or Tea Tree Oil.
With a severe or reoccurring infection, your doctor may recommend removing part, or the entire nail. This is usually left as a last resort.
If your nail fungus infection is mild and doesn't bother you, it may be best to leave it alone.
Many things can be done to keep a nail fungus infection from reoccurring. To learn more, read "How To Keep From Getting a Fungal Nail Infection"
Available Treatments for Fungal Nail Infections
How to find the best treatment? Here is a list of the currently available treatments for nail fungus infections, divided into three categories to help you determine what might work best for you.
It is always best to consult with your health care provider to determine the best course of action. You can also use current medical research to learn about treatment options.
Most likely to be effective and least harmful:
Itraconazole Pills (commercial name, Sporanox): This is an antifungal oral medication. It treats nail infections caused by fungus.
Terbinafine Pills (commercial name Lamisil): This is an antifungal oral medication. It treats nail infections caused by fungus
Likely to be effective but possibly more harmful:
Fluconazole Pills (commercial name Diflucan): This is an antifungal oral medication. It is used to treat infections caused by fungus but fluconazole is not commonly given for nail infections.
Ciclopirox lacquer: An excellent choice if you wish to avoid taking pills to clear up your nail fungus infection, especially if your case is mild. This antifungal nail polish is applied directly to the affected area. The commercial name for ciclopirox is Penlac Nail Lacquer.
Needs further research:
Griseofulvin Pills (commercial name Grifulvin V): Griesofulvin is actually an antibiotic. It isn't as effective as other medications in clearing up a nail fungus infection.
Ketoconazole Pills (commercial name Nizoral): Ketoconazole is an antifungal oral medication that is rarely used because it can cause damage to the liver.
Terbinafine Cream or Spray: Terbinafine also comes as a topical cream and a topical spray. Its commercial name is Lamisil
Removing a portion of or all of your nail: This is usually done for very severe nail fungus infections or when people experience reoccurring symptoms. This is a treatment that doctors tend to suggest when all else has failed.