Archive for the 'Onychomycosis' Category
Onychomycosis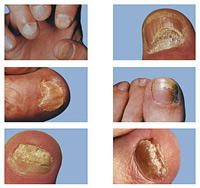 Onychomycosis is a broad term for many different kinds of fungal infection. Our nails are necessary parts of our body and protect the sensitive tissue beneath them from harm. Onychomycosis makes our nails look bad and become brittle with development of the disease. Treatment can be long and difficult but ultimately effective.
Symptoms
The nail begins to discolor, usually to opaque white or yellow
This usually begins at the tip of the nail and works its way down
The nail begins to thicken and become unattractive
As the nail thickens, it can develop darker yellow and brown spots
The nail becomes brittle and begins read more...