Leukonychia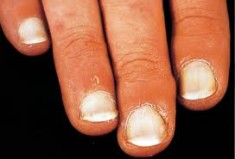 Leukonychia is a nail condition. It manifests as the nail changing color either partially or fully. This disease can be caused by systemic problems or most commonly, it is a genetic disorder. The nail appears to have the standard shape and appearance, except for the fact that the nail turns white. This is caused by the presence of "parakeatotic cells". These cells have an undeveloped and bulky nucleus, which contain 'keratohyalins'. This cell variation causes the nail to reflect light and makes the nail appear opaque white.
Types of Leukonychia
True Leukonychia:
This type of Leukonychia is broken into tw read more...