Archive for the 'Nail Fungus Topical' Category
Curing Toenail Fungus with Prescription Drugs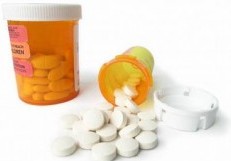 Thanks to the advancements of modern medicine, curing toenail fungus with antifungal prescription medicines has become quite regular. As this is an infection that can spread easily, both throughout a person's nails and through a populous, treating it has become of higher concern than it used to be.
What does an infected toenail look like?
The first and most common symptom to develop is a whitish or yellowish spot on your nail. Gradually this will cover your entire nail and you may eventually develop dark yellow and brown spots on the nail. Your nail will become thick and brit read more...
Proximal Subungual Onychomycosis (Nail Fungus)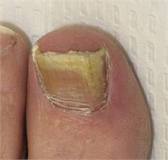 Least common in people with healthy immune systems but found frequently in people who have compromised immune systems, proximal subungual onychomycosis stands out because the progression of the disease starts at the cuticle and grows out with the nail.
Proximal subungual onychomycosis usually causes the nail to become disfigured, as in other nail fungus infections, but as it starts at the cuticle and works its way up, it is more likely to infect the nail bed early on, causing the nail bed to develop bumps and irregularities. This then may cause the nail plate to become dislodged and fall off, exposing the nail bed to possible further in read more...
Prescription Treatments for Onychomycosis
A Doctor's Recommendations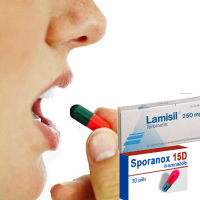 Where once onychomycosis was considered solely a cosmetic problem, doctors are treating it with greater concern. Nail fungus is unattractive, yes, but it also affects the infected person's willingness to interact with others, especially in situations where exposing the infected nail or having other people come into contact with it may make the sufferer uncomfortable.
Beyond the psychological and social repercussions associated with onychomycosis, the basic function of the nail is disrupted. The point of having the nail sheath (the ha read more...
What Are The Most Effective Treatments
for Nail Fungus Infections?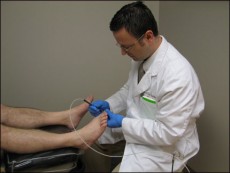 Figuring out which treatment will work best for you is part of the process of curing your nail fungus infection. There are many options out there and whether this is a long term infection or a very bad infection, it can be eliminated. However this will require patience. It can take months to clear up a nail fungus infection.
Good things to know about treating nail fungus infections
Getting rid of a nail fungus infection requires a lengthy treatment, no matter which option you choose.
Fingernails tend to clear up faster than toenails. If yo read more...