Archive for the 'Toenail Fungus Treatment' Category
Some Useful Information When Looking
for Nail Fungus Treatments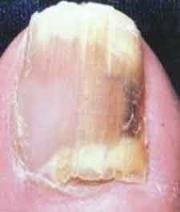 Nail fungus, known medically as Onychomycosis, is not an easy condition to treat. Primarily cosmetic in nature, it most commonly affects the toenails.
People who are at risk for contracting nail fungus are:
Older people,
Males,
People with diabetes
People who have had trauma to their nails
People with hyperhydrosis
People who suffer from peripheral vascular disease
People who have athlete's foot
People with an immunodeficiency
People who practice poor hygine
People who spend a lot of time read more...
Easily Applied Home Nail Fungus Remedies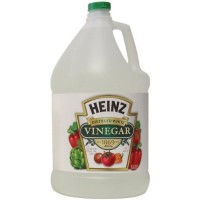 Having unattractive toenails is embarrassing and even humiliating. There are many ways to solve this incredibly common problem.
How Does My Nail Become Infected?
Toenails come into contact with microorganisms that get onto the skin, the nail sheath and underneath the nail to the nail bed. Any and all of these places can easily become a hotbed (literally) for infection. Once you have contracted a fungal infection, it can be very difficult to cure.
As these microorganisms are fungal spores, they thrive in places that have no light and high humidity. This makes the feet very susc read more...
So How Do I Tell if My Toenail
is Infected With a Fungus?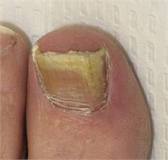 Having a nail that is infected with a fungus is not all that uncommon as it affects 10-12% of the American population. A toenail fungal infection is caused by microorganisms that lodge in the tiny cracks in the skin around the toenails. As the foot usually lives in a dark, damp environment, this is an ideal growing medium for the fungal spores. The symptoms of a fungal toenail infection are fairly consistent and if you know what to look for it is easier to catch it early on.
The first symptom to show up is usually a white or yellowish spot on the toenail. This may be a minute object, which makes it read more...
Curing Toenail Fungus with Tea Tree Oil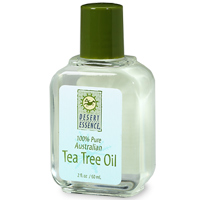 It is very uncommon for a doctor to recommend an alternative remedy over a prescription medicine. However in the case of Tea Tree Oil, this happens more often than not. Tea Tree Oil is a naturally occurring medicine and has been shown to be effective at eliminating the fungus that causes toenail infections. The Mayo Clinic has even run studies to confirm this. So why is this oil so effective? Because of its own natural physical properties.
This plant is native to Australia and has b read more...
What Nails Are and How They Become Infected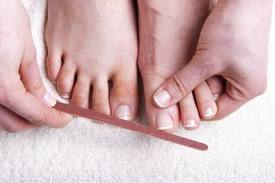 Our nails look like clear, hard sheathes that cover part of our finger and eventually grow out over the edge. Most people have a bit of a pinkish tinge underneath their nails. The nail itself isn't pink but allows the color of the skin and blood vessels directly underneath to show through. This is what a normal, healthy nail should look like.
A nail infection discolors the nail to a whitish or yellowish color at first, then as it grows, brown and black can become part of the color scheme.
Nails are made up of keratin, the same protein that builds our hair and the outmost layer of our skin. Keratin is a strong-celled protein that is fair read more...