Archive for the 'Nail Fungus Remedies' Category
Some Useful Information When Looking
for Nail Fungus Treatments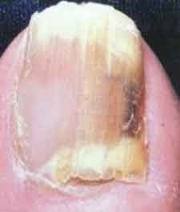 Nail fungus, known medically as Onychomycosis, is not an easy condition to treat. Primarily cosmetic in nature, it most commonly affects the toenails.
People who are at risk for contracting nail fungus are:
Older people,
Males,
People with diabetes
People who have had trauma to their nails
People with hyperhydrosis
People who suffer from peripheral vascular disease
People who have athlete's foot
People with an immunodeficiency
People who practice poor hygine
People who spend a lot of time read more...
Fungal Toenail Infections and Using Home Remedies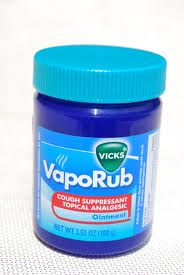 When people think of the phrase 'home remedy' they envision something that has been passed down through generations of family members and passed through many people by word of mouth. This is fairly accurate. As most of our grandparents and great grandparents grew up in a time when going to the doctor wasn't as easy as it is today and when medicinal compounds weren't that far away from what was already available in the house, many home remedies may seem strange, but especially in the case of fighting toenail fungus, they just may work!
There are a great many home remedies suggested for sufferers of toenail fungus and even more people will a read more...
Removing All of or a Portion of Your Nail
to Treat Nail Fungus – Is it Effective?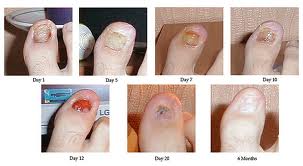 No one really knows. Little to no research has been done on removing all or part of the nail to treat a nail fungus infection. That's because it's sort of a last resort treatment for dealing with onychomycosis. However if you are unable to take any of the oral medications suggested for treating onychomycosis and if none of the topical solutions are effective, or if you have tried treating your nail fungus in several ways and none of them have been effective, then surgery may be an option.
Another thing to consider is if you continue to experience recurring nail fungus infecti read more...
How Can I Permanently Cure My Toenail Fungus?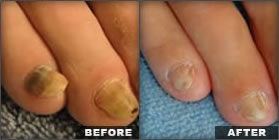 Doctors tend to shy away from the word "cure" when referring to toenail fungus because it is not an easy thing to do. We have become a very busy society that believes popping a pill will take care of everything. Unfortunately that is not the case with toenail fungus. Onychomycosis, the medical term for toenail fungus is hard to cure because the treatment regimen is very long and can be quite involved. Most kinds of fungus are able to lie dormant for a long period so people will go through treatment and get positive results, only to find that the infection returns. Curing toenail fungus permanently is a possibi read more...
The Places Toenail Fungus Like To Hide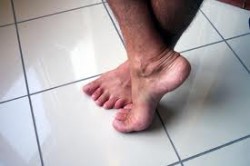 Permanently ridding yourself of a nail fungus infection once it has taken hold can be a very difficult job. The fungus grows slowly but strongly and by the time you see the initial symptoms, a great deal of damage has already occurred. The fungus likes to work its way underneath the nail so that it uses the nail as a shield to keep it warm and moist, its favorite growing environment. It also makes it easier for the infection to reoccur after what seems like successful treatment because the fungus can lie dormant underneath the nail, then start growing again once the treatment ceases.
How Does a Nail Fungus Grow?
A fungus i read more...